Are you Black, White? Or are you just YOU?
There is the pressing reality of why anyone has to identify with something and prove it.
Rev Starlette makes a bold claim with her Art, as she irrevocably argues that she is neither greek nor jew but one free in the Lord.
If you agree that art is a unifying tool and can be used to correct erring ideologies? Then you have a lot more insgiht to gain from our interview with her here.
Enjoy and Stay Inspired:
It's awe inspiring to see how your works under the 'Raceless Gospel' correlate with the Hello ICON Magazine dream to use Art as a binding force beyond all racial, gender and every other differences that put us apart as humans. Can you please share how this vision began for you and the unique motivation behind it?
My vision for the raceless gospel began with a common question that persons on this self- discovery journey ask, "Who am I?" I learned that the sociopolitical construct of race had exclusively informed my birth narrative, and this made race a problem for me. After studying race and its progeny for several years, Howard Thurman's question, "Who am I, really?" became more pressing. I refused to allow race to be the cause for the second- guessing of my human being and belonging. So, I asked another question, "Do I have to be black?" and the answer has empowered me to question race faithfully ever since. 
The motivation for the raceless gospel is both my birth narrative and my baptismal identity as outlined by the apostle Paul in his letters to communities of faith at Galatia and Colossae. He writes to the former: "As many of you as were baptized into Christ have clothed yourselves with Christ. There is no longer Jew or Greek, there is no longer slave or free, there is no longer male and female; for all of you are one in Christ Jesus" (3:27-28, NRSV). He repeats it to the latter: "In that renewal, there is no longer Greek and Jew, circumcised and uncircumcised, barbarian, Scythian, slave and free; but Christ is all and in all" (3:11, NRSV)! As a Christian believer, I am given an uncategorical identity.
Do you have any personal experience of racial injustice? Please share if you do. 
Unfortunately, my experience of injustice occurred in a sacred space that self- identified as multicultural. I experienced spiritual abuse, targeted harassment, scapegoating and gaslighting. To make matters worse, it was all done in the name of white supremacy. The community around the church was changing and so was the membership. There were persons in lay leadership who would not let that continue to happen. 
It was one of the most heartbreaking experiences of my life and a difficult leg in my faith journey.
Do you agree art can be used as a tool for correcting faulty orientations? Kindly share any relatable scenarios if you do. 
Yes, art is a tool that can provide a corrective lens for constructs and orientations like race. As a visual artist, I namely use wood, household goods and peg people to demonstrate the racialization process. In a series titled "Racialization," I show participants that race is made in America. "Baked in" posits us as ingredients for this product. "Bad eggs" argue that we need to start from scratch, leaving race out altogether. "Basket case" offers a case study on why race is a simplistic reduction of our human being and creates dysfunction in relationships. Art has the power to reframe conversations and I love it when persons look at my work and say, "I never thought of it that way." 
Have you ever held back your gifts at some point, perhaps through self-doubt? Have you ever felt it 'boxed' in by someone else or an experience? 
I have had ample opportunities to doubt myself and then I thought, "Why join that chorus. Why snap your fingers and give it a beat? Why ensure its harmony? Sing your own song!"  
Also, I have either been invited into spaces or created my own to harness and shape my gifts. The last time someone attempted to box me in, I quit. Because there comes a time in your life when nothing but death has the power to hold you back.
What was growing up like? 
Growing up was hard and it was especially hard on me. I kept my head down for much of my upbringing. Raised in the rural South, there wasn't much to look at. So, my focus was always on leaving.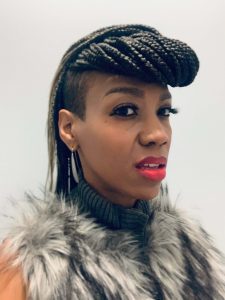 I was a bibliophile and preferred books over people. I still do. I lived in an impoverished area and books, those page- turners, took me places I didn't even know existed and I certainly didn't have the wherewithal to imagine. Books made a home for me. 
They gave me words that moved me outside of my familial history and away from a geography of poverty. Books were my hiding place. They quite literally raised me. 
"I am ready to talk about race until it loses its credibility, until it is no longer the first thing we "see," until there is no more us and them just we." "Humans don't come in colors, we are not a packaged deal." 
These are just glimpses of some of your powerful stands against racism. Can you please share a little more on these words? 
I stand against race and its body borders. I simply refuse to be colored in and boxed up as if race is a summary of my human being. I cannot be reduced to this four-letter curse word. I will live outside of its color lines, and I invite others to do the same. We are more than its stereotypical depictions, more than skin and bones. We are living souls and we should always see ourselves that way.
Who are your 'ICONS' in the creative industry? 
I pull my inspiration from any number of people and places. Bisa Butler is a fiber artist, and her quilt work is vibrant and very much alive to me. Jordan Peele is a filmmaker whose interpretation of race on the big screen is both jarring and mysteriously reassuring. Kara Walker as a silhouettist continues to intrigue and inspire me. Lyricist Kendrick Lamar's commentary on life and its living is both heart- wrenching and liberating. I must also pay homage to the word work of Zora Neale Hurston, James Baldwin, Toni Morrison, and Howard Thurman.
Let's go a little poetic: If poetry is a rainbow and you have a choice of one color in that palette, what would that be and why? 
Interesting. I would choose yellow because it is often used to color in stars and is included in light bulb moments. Likewise, poetry should illumine and create opportunities for greater awareness.
If you could do a collab with any artist as an advocate of the Raceless Gospel, what artist would that be? 
This question reads like a prayer request. I would like to collaborate with Kara Walker.
Please briefly tell us something we do not know about Rev. Starlette Thomas.
Something you do not know about me but that is true for a lot of creatives is that I am an introvert. My first name functions more as an alter ego.
What does success mean to you? 
For me, success is defined by a deep self- awareness and a loving acceptance not predicated on any external determinants. It is not so important that I be known but that I know myself, that I do not die a stranger to me. 
You Are Everything Beautiful Starlette.
From The Entire ICONIC Team,
Massive love!
Thrive on!!