Enjoy and Stay Inspired:
Please can we meet Uyi Nosa-Odia?
Thank you, Eden.
Where do I start? As a child, I was exposed a lot to the arts through my dad and elder brothers. They were not artists, but their appreciation for creative and performance arts made a lasting impression on me. While in secondary school, I operated a small art studio focusing mainly on sculpture and sign-writing. It was portraiture, however, that was most fascinating to me. The problem at the time was, I could not really paint them yet. So, my decision to study art at the university was largely because I wanted to learn how to paint portraits. I did learn how to paint portraits, but soon, realism and portraiture lost their impressions on me. Broken forms, raw expressions and abstractions all started to inspire me. Today, I think my artworks are reflections of what goes on in and around me. The forms they take could be figurative, abstract or symbolic, tangible or conceptual. They are me.
What does Art mean to you?
Art is both a safe space, freedom and a language to me. It's always been my companion.
Can you remember your first painting and what inspired it?
If I remember correctly, my first non-professional painting was an old Pepsi logo. I was probably 9 years old and at the time my mother was a local distributor for the Seven-Up Bottling Company Ltd. I think I may have found the contrasting red, white and blue colours quite appealing as well as the taste of the beverage.
We see you're also a graffiti painter and a sculptor, can you share glimpses of the earlier days of your journey as an artist? Including the motivations. The challenges. And what kept you going.
Obviously, my art has always reflected my changing environments, motivations and interests. However, there has always been one thing that has kept on motivating and driving me, and that is an innate compulsion to express and create. I learned to sculpt as a child because it was a common sight in Benin City. When I became a teenager, I did more of graphic design, sign- writing and mural painting. It must have been because the demand was high and it brought me money and "status" in the community. However, when I started studying at university, my focus switched more to painting. Today, I create my art in whatever form the work relates to me and will connect better with my audiences. As for challenges, I can't say I've had a lot of challenges as an artist besides having to work harder and network more. But my life has had its fair share of challenges unrelated to being an artist.
How was growing up like?
Growing up was full of fun, mischief and learning. My home city of Benin has always been a culturally rich and colourful metropolis with so much to be stimulated by, positively and otherwise. There was religion, politics, sports, modernisation, tradition and often violent conflicts. Looking back now, I can definitely say that I had a great time growing up. Even my art reflects these childhood experiences up until now.
During the #77percent Street Debate, you described the Benin Bronzes as "more than Art, representing the people and the times they lived in." How best do you think Art can be used to promote and preserve history and culture?
I think the best way art can preserve history and culture is through the simple way of creating artworks that reflect what has happened, what is happening and, dare I add, what will happen. This is not limited to actual events but also feelings and interpretations.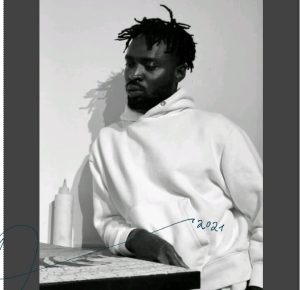 We see you'll be part of the European Capital of Culture Art Project coming up in 2022, please tell us more about this.
I am participating in the European Capital of Culture, ESCH2022, project with the collaborative art project I created, Tableaux de Fusion. Put simply, it's about creating 45 artworks of places, people and events of cultural and historical importance to the area. The project brings together various artists from various backgrounds, combining and merging their individual styles and techniques to create a true fusion canvas.
The concept behind your project "Painting Nothing" is super awe inspiring! Also, with a total production cost of over €10,000, you described the project as your most costly yet. Can you share more on the inspiration behind the project in entirety?
Painting. Nothing is my most expensive artwork yet, and it is just less than 10% completed. It all started in July 2020. I wanted to create something that was entirely conceptual that could neither be seen nor judged by its ecstatic value. After about a week of thinking, all I could see was a blank canvas. Blank canvases are quite controversial amongst artists and critics. My first reaction to what I kept seeing was "No way! Not me." But this canvas wouldn't disappear. Then the epiphany came. Paint nothing. Paint everything. Paint for long hours. Paint around the world. Paint with water! For me, Painting Nothing embodies the essence of art and realises the truism, "I will be an artist with or without the money and fame".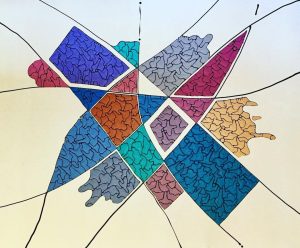 Do you feel Creatives in developed countries are at advantage than those in developing countries?
My opinion about this is rather personal. Why do people become creatives? If the leading answer to this is a financial reward, then it can be safely said that artists in developed country enjoy the advantages of getting seen, known, and financially rewarded for their activities sooner if they're good at their art.
Who are your 'ICONS' in the Creative Industry? * What does success mean to you?
I respect creatives of all ages, art forms, media, styles and techniques. I draw influences from the traditional Benin bronzes, I am in awe of Jean-Michel Basquiat's body of works. I love theatre, books, movies, poetry, performance art. Really, anything art related. I am greatly influenced by all forms of art and I have deep respect for those making things happen in their respective art domain.
What does success mean to you?
To me, success means the ability to achieve one's goals and objectives whatever they are.
Let's go a little poetic: If poetry is a rainbow and you have a choice of one colour in that palette, what would that be and why?
It would be the colour yellow. And that's because to me, yellow represents innocence, playfulness, radiance and hope.
If you could do a collab as a painter with any other artist, what art would that be?
Hmmm… it would be anything art related, for sure. I'm generally game for collaborations that bring very different forms of art together because the results are often something new and challenging.
You Are Everything Beautiful Uyi.
From The Entire ICONIC Team,
Massive love!
Thrive on!!