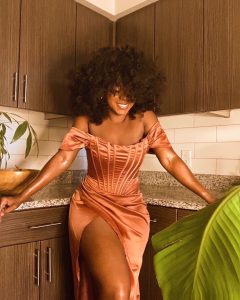 Lindsey The Creative. Doesn't her name say it all? Doesn't the uniqueness she reflects give more clue of how amazing she is? To be a mastermind in a particular field is always awe inspiring, but to find someone perfectly combining more than one Art is legendary. And this is who Lindsey is. A Creative. A legend, beautiful inside out. She's one artist that shares her truth unashamedly, shining a light through Art.
In all depths of beauty, love and truth, Lindsey the Creative pours out more of the brilliance she bares in our Exclusive Interview with her.
Enjoy and Stay Inspired:
 What does Art mean to you?
Art is in everything and a part of everything. I love being an artist, because there are truly no rules, no restrictions…You can create anything you want, and that's beautiful. 
 How do you perfectly combine being a multi talented creative, as a writer, photographer, videographer and more?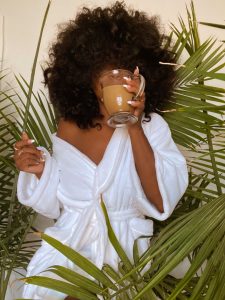 I appreciate that so much! That's a beautiful thing to say! I try not to limit myself in any way. I try to give myself the permission to explore every side of my creativity. The name Lindsey, the Creative stems from that. I couldn't find any other name that was suitable for myself. Lindsey, the Photographer wouldn't encompass the other side of myself that is a writer and creative director. Lindsey, the Creative just seemed to fit! 
 "Rest is more than just a physical act. Rest your mind, too." This is just one of your awe-inspiring words and no doubt many creatives out there struggle with balancing work and self care. Many of us even have no holidays, and time just goes by without control. Please can you share highlights of how you create a balance between work and self care?
It's so difficult to balance everything ALL the time! I fall short sometimes, or forget that I haven't poured into myself recently. I have to be really intentional about rest, or it won't happen! 
 What inspired your journey as a writer?
Writing has always been my first love. I started writing poetry and short stories when I was in elementary school. I always got straight A's in my English class, and struggled in all of my math and science classes. *laughs* 
 How was growing up like?
Growing up, I was always a little off-beat, a little quirky and different…I was never really popular or one of the cooler kids in school, but I was myself – unapologetically. It came with bullying and teasing, naturally. There were many nights where tear stained pillows greeted me in the morning. I've grown so much since then. I honor the girl I was growing up. All she wanted to do was create beautiful things for the rest of her life…And here we are.
 The theme of our magazine's December issue is 
    'The ART of Christmas.'  Your words "Christmas cookies are a love language" give us a glimpse of the celebration for you. Please share some highlights of what your typical Christmas day looks like.
I LOVE the holidays with a passion. Christmas time has this magical ness about it. Christmas morning normally begins early in the morning. I'm the first one awake, trying to make sure everything is absolutely perfect when my babies wake up. I am a gift giver by nature, so every gift, every decoration was planned out to a tee. I normally go to a local park or visit close friends later in the day. Overall, it's such a beautiful day.
 Do you feel Creatives in developed countries are at advantage than those in developing countries?
Absolutely! There are so many artists across the seas with so much talent, but never get the exposure or recognition that they deserve. I think that if those artists received opportunities, the artistic community in developing countries would skyrocket. 
 Have you ever held back your gifts at some point, perhaps through  self doubt? Have you ever felt it 'boxed' by someone else or an experience?
Imposter syndrome is a real battle, and I'm definitely not immune to it. I held back my writings for a long time, because I didn't want to be vulnerable in a digital room full of strangers. One day I decided to share a piece of my musings, and I never looked back. I believe that storytelling is so powerful. Someone else may find strength on their journey because you had the bravery to share your own. Even in the male dominated world of photography, there are times when I struggle to create proudly as a woman photographer. I still create, because I know that the world needs more women in that industry. The world needs more women who are in the tech and digital arena. The world needs our voices.
Who are your 'ICONS' in the Creative Industry?
I look up to so many humans creatively. Asiyami Gold, Issa Rae, Ava DuVernay, Ellen Fisher… Just to name a few! I started watching Issa Rae in 2010! She gave all of us who may be socially awkward at times a major platform to thrive. There are so many who inspire me in different ways. 
 What does success mean to you?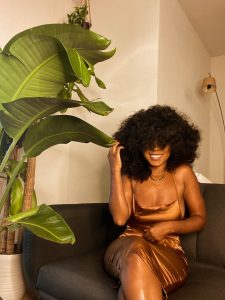 I think about success often, because of the social media world we live in. I try not to measure success by what I see online. Success is being able to do something that you love to do. It's being around genuine people. It's taking care of your body and mind. It's chasing dreams. It's living by faith and courage. It's the ability to see the beauty in your OWN life. That's success to me. 
 Let's go a little poetic: If poetry is a rainbow and you have a choice of one color in that pallette, what would that be and why?
I love this question! *laughs* It would most definitely be yellow! Yellow is warmth. It's light. It's beautiful in each and every shade.
 If you could do a collab as a creative with any other artist, what art would that be?
I would love to have a photo shoot with musical artists Elhae, Jidenna, Issa Rae, and Tobe Nwigwe. The list is extensive, though. There are so many people that I would love to capture! 
You Are Everything Beautiful
Massive Love Lindsey!
The ICONIC Team.