Models are Art personified. The beauty and all the glory that come with walking through the aisle with camera flashing and all eyes on you. The creativity, the styles, the brilliance are all the features Jordan Gant possesses, even as he thrives as a young model. But beyond this, Jordan reveals the other side of him, a fountain of inspiration as he shares his story and some beautiful highlights of his journey as a model and yeah! A singer too.
Enjoy and Stay Inspired:
Please can we meet Jordan Gant?
Born and raised in Tucson, Arizona, for as long as I can remember, my coming of age has been directed by reverence of life. Growing to treasure life in its entirety-whether it be positive or negative-has allowed me to take a more objective approach to taking an active role in solving problems as they arise and making decisions that benefit me as a person.
What does Art mean to you?
Art lies in everything. All facets of life: no matter how big, small, intricate, or simplistic. It's a method of expression that transcends any type of limitation. Art is a form of expression that is neither wrong or right. Art is an extension of who someone is as a person. For me it's a means to convey honest-introspective honesty and genuine honesty that may be censored out of fear of judgment from others.
Please share some highlights of the inspiration behind your career as a model. Your passion for it and some highlights of your journey so far.
I was inspired to model after seeing artists, actors, and other celebrities on ads and because I wanted to make something of myself when I saw artists, actors, and other celebrities on ads and other various shoots. I told myself that I'm going to strive toward my ambition. I'm tenaciously motivated by lingering adolescent memories of being told, "It's just a dream, forget about it or pick something more probable.". I told them, "Just wait and see.". A few weeks later I had my first cover with Tucson Lifestyle Magazine.
My most fulfilling moment as a model was walking for LA fashion week. The sense of accomplishment of being able to walk the red carpet, walk for Adam Saaks, Merlin Castell, Mister Triple X, and other fashion designers for the first time in my life, I'll never forget.
We see you're also one talented musician, your EP, 'Locked Up In The Dms' says it all. How do you combine your time for modelling and creating music?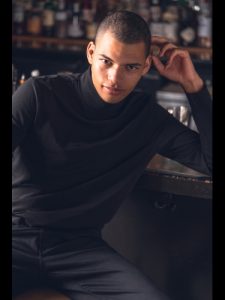 Being an Artist and a Fashion Model takes impeccable time management skills. However, while making music, the process I have is a lot different than most since I'm modeling full time. I freestyle and record my freestyles. After that I leave 2-3 hours at night to write songs out of those 5 or so freestyles I recorded earlier. 'Lockedin the Dms" was made in 2 weeks and it was my biggest hit in 2021. The next project is going to be my First Album which is going to be released in 2022.
How was growing up like?
Growing up was difficult to say the least. I have a very compassionate family, but growing up with virtually no friends to associate with and being tormented by fellow school peers made it difficult to fit in. At the very least, it allowed me to aim my focus toward my ambition without the distractions that come with maintaining relationships/ friendships.
What are your career goals over the next five years?
Over the next 5 years, I hope to be doing fashion shows all around the globe. I hope to secure more influential connections and to be more financially stable as a 21 year old.
Do you feel creatives in developed countries are at advantage than those in developing countries?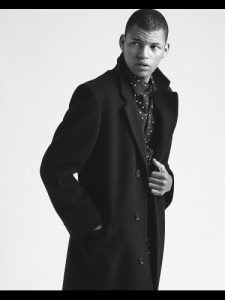 Each market varies on the development of the given country. However, it's inevitable that the market of the fashion industry is going to be large no matter what. Work will always be available. I disagree that the creativity market is at a disadvantage compared to developed countries because creation helps allow those to persevere through the hardships that one may face on a day to day.
Who are your 'ICONS' in the modelling and music world respectively?
My ICONs in the music and modeling Industry are Frank Sinatra, Dean Martin, Mac Aryes Saba, Kanye West, Coco Chanel Gianni, Versace Tom Ford
What does success mean to you?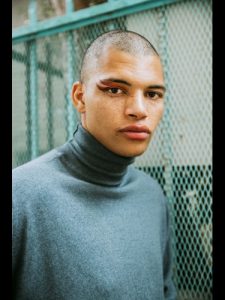 To me, success is achieving a level of financial autonomy that allows me to take care of those I love and that have been by my side throughout my rise to prosperity.
Let's go a little poetic: If poetry is a rainbow and you have a choice of one color in that pallette, what would that be and why?
Pink is my favorite color because it signifies the warmth of love. It brings a sense of tranquility and hopefulness to those who gaze upon it-hence why I believe that it is used to represent the hopefulness of being cured of breast cancer.
Please briefly tell us something we do not know about Jordan Gant.
Nobody knows that when I was younger, I hated getting pictures taken of me. Now it's something I adore. It's crazy how life works. I can't wait to see what the future has in store for me.
You Are Everything Beautiful.
Massive Love Jordan Gant!
The ICONIC Team