We are not just in awe, but also in love with Fanta Ballo. How every word by her is relatable and carry so much life. How she perfectly intertwines poetry as an essence of life, a perfect reflection of how we redefine Art here at Hello ICON Magazine. In our quest to find and honor creatives who combine brilliance and unique skills with love, humility, fierce strength, passion and empathy, Fanta beautifully ticks all these boxes and more.
Here's our Exclusive Interview with Fanta as she beautifully shares her truth on her journey as a Creative.
Enjoy and Stay Inspired:
Please can we meet Fanta Ballo?
Fanta Ballo is a poet, artist, activist and author from Harlem, New York. She holds a bachelor's degree from the University at Albany and an associates degree from Bard College at Simon's Rock. Fanta released her debut poetry book "For All The Things I Never Got To Say" in May 2021. Fanta has performed her poetry at events ranging from protests and rallies to festivals and concerts to school auditoriums, most notable being at Global Citizens. Fanta has also performed for organizations like Everytown for Gun Safety, Words on White, New Aged Black Panthers, 826NYC, UAlbany Student Association and A BroaderWay, and at venues like NYC'S Irving Plaza and Playstation Theatre and DC'S Kennedy Center. She has collaborated with artists like Shawn Mendes, Idina Menzel, Jeanine Tesori, Shihan Van Clief, Ayodele Casel and champions other young artists with her work. Fanta uses poetry and music to tell her story in hopes of empowering others to share theirs.
What does Art mean to you?
To me, art means the ability to express yourself in an unconventional way. There is no limit to art and there is no true judge. Everyone interprets art differently and it speaks to people in different ways.
Can you remember the first poem you wrote and what inspired it?
When I started writing, I was writing raps but I eventually switched over to poetry and the first poem I ever remember writing was about the 2016 election. This piece was written the day after Donald Trump won the election, and I was in complete shock. I didn't know what else to do so I just wrote about it.
You are one awe-inspiring creative who found purpose early in life. How you performed your first original piece at age 11 is one of the many perfect reflections to this truth. Have you ever held back your gifts at some point, perhaps through self doubt? Have you ever felt it 'boxed' by someone else or an experience? How did you manage times like this and how do you best face challenges?
Thank you so much! Looking back I am super grateful to be able to create and perform at such a young age but I feel like I didn't give myself enough credit sometimes. I would go through phases of imposter syndrome where I would believe that I am not actually good at anything and then I would quit on myself. I was constantly comparing myself to others and for a short period I stopped writing completely and told myself that I should be doing something else. The thing that brings me back everytime is my support system. If I am feeling down or lost, I know that I can talk to someone and they will listen, never judge and reassure me. I think the most important thing for a creative person is their support system. You need to be surrounded by people who genuinely care about you and want to see you succeed.
The beauty of life is that we all have our stories. The sweet bitter experiences, and you continue to inspire with how you have risen, time and again beyond all odds. Can you share highlights of your journey thus far as a creative? The sarcrifices, the crossroads while chasing your dream of impact.
This journey has been an uphill battle but I wouldn't trade it for the world. Chasing this dream comes with a lot of silent sacrifices. I would say some of my biggest sacrifices were losing time with family and friends. When you are chasing a dream, you are going to have to prioritize your work. You will miss out on events, you will feel like your friends are forgetting about you, you will sometimes have to be on your own. When the work is done and you circle back, it will always be worth it.
"Mental health is our most important battle and we cannot lose this war." Your words carry life and speak truth that resonates.
Balancing work time and rest time is a struggle for many Creatives out there. Can you share a few tips on how you try to balance work time, rest time and family time?
A few tips and tricks that I live by
● Put everything in a calendar (digital or paper)
○ I use google calendar
● Make sure that you have your off days and you stick to them!
● Listen to your body
○ If you're tired, sleep.
● Find a hobby outside of work
○ Even though I am creative, it's important to have a life outside of your main focus.
How was growing up like?
I grew up around boys being that I was the only girl and I looked up to my brother, I started playing basketball and I was always outside. I had to learn how to speak up for myself at a very young age because being a young girl with boys, you have to constantly prove that you're strong enough, smart enough and worthy enough to hang out with them. Although this was the case, my brothers loved me and if it came down to it they were going to protect me at all costs.
"A lot of people won't see your vision until it's executed…" It takes a lot of courage to quit a full time job to chase the cores that make our hearts beat as individuals. Our passion. The very thing we were made for. The naysayers and even self doubts may stand as road blocks. This is a major struggle for many creatives out there. What would you say helped as your biggest strength and motivation to quit your job and chase your dreams?
I don't believe there was a certain thing that made me feel empowered enough to quit my job. It was more so little moments that added up to the day I finally put in my two weeks. It was everytime I had to call out of work to do a show. It was every time I had to say no to a good opportunity because I had to go to work. It was when I started noticing that my poetry was taking a backseat to my banking job. All of those little moments made me realize if I didn't get out now, I probably would be stuck in this job for longer than I plan to so I took a leap of faith and told myself that, "if I don't bet on myself, then no one's going to do it"
Do you feel Creatives in developed countries are at advantage than those in developing countries?
My take on this would be, creativity comes from within so whether you are in a developed country or not, you still have the power to create. I would say the advantages come when we look at the opportunities that you can get from living in a developed country, people living in a developing country have restricted access to all of the outlets that we are afforded.
The title of your book 'For All The Things I Never Got To Say' carries a lot in itself. What will you consider to be the major inspiration behind the book.
The major inspiration behind my book would be my younger self. The reason this book came about is because there were so many things I held in as a child that I felt I needed to share as a young adult. Adolescent Fanta went through so much and she never felt safe enough to actually speak about what she was going through, so this book is for her and every other child or adult who let their silence fill up rooms they knew they should've spoken up in.
Who are your 'ICONS' in the Creative Industry?
I have a lot of people who inspire me but if I had to say a few, I would say my ICONS are Lena Waithe, IssaRae, ShiHan Van Clief, Rudy Francisco, and Jasmine Manns.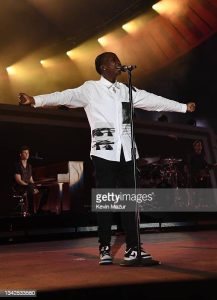 What does success mean to you?
When I think of success, I think of me being able to wake up every morning feeling at peace. My parents no longer have to work, people all over the world are finding themselves within my words and I am reaching the minds of young children. I will consider myself successful when I can wake up everyday and change at least one person's life.
What will you consider most fulfilling about being the first grantee of the Shawn Mendes Foundation Awards?
The most fulfilling part about being the first grantee of the Shawn Mendes foundation is knowing that the work that I'm doing means something to people. Being awarded this grant made me realize that I am actually making a difference, it made me no longer look at my poetry as a hobby or something I will do on the side but as something sustainable and impactful I can do for the rest of my life.
Let's go a little poetic: If poetry is a rainbow and you have a choice of one color in that pallette, what would that be and why?
I would say Indigo, the reason being is because when most people think of the colors of a rainbow, indigo is not the first color that comes to mind but it's there and without it, the rainbow would never be complete. This is exactly like with poetry, when people think of art and expression most people first thought won't be poetry, it would be music, painting, dancing, etc. But what people don't realize is there is poetry in everything and when it comes to expression, they all work together whether you are conscious about it or not.
If you could do a collab as a writer/spoken words poet with any other artist, what Art would that be?
If I could collaborate with any other artist it would be a singer or a dancer. One day, I would love to collaborate with either Teyana Taylor or Kehlani.
Massive Love Fanta Ballo!
The ICONIC Team.