Art Is Defiant! It Cannot Be Restricted!
As we continue to define and redefine what Art is at Hello ICON Magazine, we have continued to be in awe of new mind blowing discoveries of various kinds of Art beyond societal norms and restrictions.
Undoubtedly, Art will always find its expression in the hands of anybody and everybody irrespective of class, status, religion, origin, language or anything that can be counted as a limitation to the expression of true Art.
Earlier this week, this was confirmed on the internet as one Mustapha Gajibo pioneered and championed the building of 100% electric cars of which are currently operating in Nigeria.
Dropping out of college didn't deter the Nigerian native from making the difference he wholeheartedly sought, it instead motivated him to do it in spite of it all. He has been able to reduce the transportation and "environmental-hazard" problem in Maiduguri by a great percentage, leaving many mouths agape and in appreciation, especially Nigerians.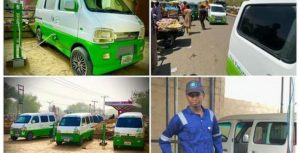 In his words, Gajibo said:
"Today marks 30 days since our electric city buses commenced operations in Maiduguri Nigeria, we have recorded over 21,000 passengers, and we have saved them over N1,100,000 by charging them N50 instead of N100 and also saved the environment 27300g of Carbon monoxide. Green city."
Veraciously, Maiduguri is now on the list of places that will be called GREEN CITY soonest even if is it too early to say that it is now a GREEN CITY. This is courtesy of ART.
Indeed, Art can be expressed and found in every place.
Art can be found at the base, it is in the slum, it can be found among the forsaken, it has no specific dwelling place. Just like it can be found with the highly placed, so it is with those below. It is not gender specific, Art is male, it is a female too. Art transcends any shape or form. So, it doesn't matter what station you're in life, you're a candidate of Art regardless.
Art is everywhere and is being expressed for the progression of humanity.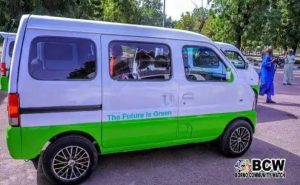 While this is now the conviction of everyone, belittling people no matter their situation or place in the society should be unacceptable as Art is everywhere and can be expressed by anyone.
Relegating anybody to the background because of self or societal-created bias is a disservice to the ground-breaking art/innovation that can be recorded and celebrated in the world.
The world has enough problems already and if we are to look the part of proffering solution to these problems, we must respect and honor all hearts as they have something to offer via their Arts – anything they find their hands to do.
If Art is truly everywhere, then, everyone must be given the room to express their hearts and be given the global stage.
While everyone shines light on varying industry through their Art, they deserve to be given the spotlight.
No matter what!