LindoYes is one Creative that is so intentional about impact and real time change. A glimpse into his awe-inspiring life reveals a splash of hope, brilliance, strength and what he describes as a "beautiful struggle" on how he has risen to not just thrive beyond the storms of life, but also help others stay afloat. LindoYes is the brain box behind so many creative projects and we are in love with how he uses his own life to tell rare stories that uplift.
Here's our Exclusive Interview with LindoYes as he beautifully shares his truth on his journey as a Creative.
Enjoy and Stay Inspired: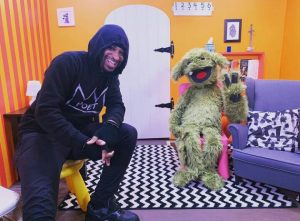 Please can we meet LindoYes?
I'm a spoken word poet and Blerd who just wants to see the world better. Because I know what is possible with our potentials, because so much of our history shows our potentials can be actualized.
What does Art mean to you? 
To me, art means expression of possibilities and, also, the ideas of the internal dialogue that we all have, that we then showcase.
Do you agree Art can be used as a tool for correcting faulty orientations?
I'm very much of that belief, as much as James Baldwin, that art is to make the movement irresistible. Art is to help people digest ideas because of its accessibility. It's a tool. If you look at the Black Lives Matter movement, there wasn't always a rally but folks were activated in songs, visuals and conversations. We are seeing more people understand and agree with this messaging. It goes from a thought process to an action creating a culture behind it.
Have you ever held back your gifts at some point, perhaps through self doubt? Have you ever felt it 'boxed' by someone else or an experience? How did you manage times like this and how do you best face challenges?
I wouldn't say I held back my gift but moreso that I didn't understand it. I didn't get into poetry because it was poetry, but to deal with social anxiety. When I was overthinking or being critical of every social interaction, or because I had to overcome this fear of disappointment in others, I would rehearse being myself and being impactful, and then others helped me understand it was poetry. I had this presence and when I started being more intentional about it and putting myself in the space, my poetry became what it is now.
Your poem 'Tough Love' says a lot in a simple yet clear voice. Can you share more on the inspiration behind it?
"Tough Love" came about because I've been in therapy on and off and one thing my therapist made me realize is my poems often come out of tragedies and traumas I've endured. They were wondering what my healing looked like and the more I think about this question, the more I act on it in my life, the more I see poetry is what I need to heal. "Tough Love" is my expression of the emotions I couldn't express, and I needed to in order to be my full self. That poem is a critique on the idea of tough love as much as it is asking for healing, and I'm hoping people recognize that space.
How do you combine being a spoken words poet, a creator of a clothing line and being an event host? How do you manage rest time with work time? 
Some months are better than others and I think my first step is being intentional by realizing how much I'm resting and how I perform when I rest. We are brought up in a hustle culture, to always have upward mobility and "rise to the occasion," but any gear that is turning needs oil, and rest is that oil. When I rest, that isn't always me sleeping but me being inaccessible to my work and being intuitive. Being unproductive allows me to just enjoy my cat, watch tv and be into the things that define me and are not associated with my work activity. I try to do that as actively as possible, especially when I want to reward myself, so much of adulting is realizing you have to parent yourself. If this is my activity, my reward needs to be relaxing and not any way defined by the work I'm doing.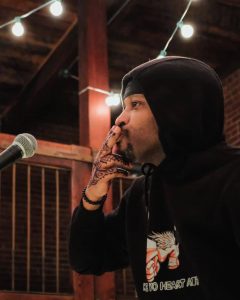 How was growing up like?
Growing up in Philly, uptown to be specific, it was gritty, it was lovely, it was a beautiful struggle. I love my city with my whole heart because it has wholeheartedly put me together. I love the fact that we have the proximity to and are influenced on so many levels by other places and that puts social pressure on my work. Not only do I want to rise to the occasion. I want to have a unique legacy of my own. When I was growing up- and I'm still growing- there are things about Philly that are so different from other places and being able to have that experience, I am so different from folks who don't have that experience. I see the responsibility to be the sharpest knife when you're looking for one from my city. It created a competitive nature because others are doing so great, but my experiences are so different and therefore I am and I have a story that no one can tell like I can.
Who are your 'ICONS' in the creative industry?
I have always liked Joshua Bennett, early on I studied Taalam Acey, right now I am taking in a lot of Neil Gaiman because I'm writing a comic and I'm fascinated with telling a story within a story. Give me a story that reveals the origin of a world and you have my attention. Listening to a lot of Tems- it's soothing but also reminds me of the duality of soft and gritty. I really enjoy their storytelling. I have a variety of folks that impact and shape my reality, it's hard to exhaust the list. There are folks like Octavia Butler, James Baldwin… that I hold dearly. There are some I fall in love with when I'm studying and then they're folks that I interact with or observe and it impacts me so much, could be a homie or someone after a show. And those are equally as impactful.
What does success mean to you?
To me, success means to be comfortable and to always be able to locate my happiness. That means constantly being aware of and discovering what makes me happy, knowing that I have the resources I need to be in the best spaces for the betterment of my future.
Let's go a little poetic: If poetry is a rainbow and you have a choice of one color in that palette, what would that be and why?
Black, I don't even know if Black is a part of the rainbow and someone could inform me, but Black is a collection of all colors, and I find it most comforting when I wear Black or I am around things that are Black. It's a happy color even though it's often depicted as gloomy, it shows me that I am included in all and I am accepted by others.
If you could do a collab as a spoken word poet with any other artist, what Art would that be? 
Currently I've been working a lot on short animations so I really enjoy working with other animators or illustrators. Making my poetry into comic strips or animations has been really endearing to me and I'm really interested in collaborating with people in rock or alternative- that's been really fun and I've been really fortunate in the past few months to be booked for some rock shows and I'm enjoying the conversations with rockers and punks at the shows. If you asked me a year ago, it was hip-hop and poetry shows but right now with these comic books and  animations… I'm really intrigued with what other animators are doing and the rock shows are a space that I haven't felt before. It could change again but right now that's what it's been.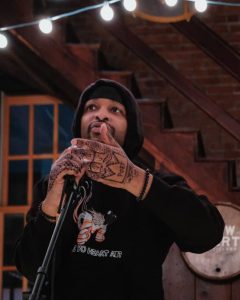 Please briefly tell us something we do not know about LindoYes.
I feel like everybody knows I'm into nerd culture and comic books, animation, sci fi, fantasy, but I think that's something you don't know until you ask or talk to me. The things I'm very much interested in.. many people don't know I'm into cats! I'll sit and watch a YouTube video of kittens playing all day, and I'll have it in the background providing me peace while I'm working. I enjoy lions, tigers, panthers, and the whole feline family. They have my mind and heart, it's hard to explain. I have 2 cats, I love them and I feel like they love me. Ah, a lot of people don't know I collect miniatures and I am into dollhouses. It started as me being into collecting toys but I couldn't get the figures I wanted and miniatures were more accessible and then I really started loving the carpentry work of people making dope dollhouses, making them look like the houses people really live in.
Massive Love LindoYes!
The ICONIC Team