Poetry in painting.
Have you ever looked at an artwork that makes you see, feel and listen?
These are the kind of works Ayogu Kingsley Ifeanyichukwu creates.
Beyond talent, beyond skills, his works reflect passion, empathy and what we like to describe as a beautiful audacity to uphold truth.
Kingsley's works make you see, because they reveal. They cause a stir you feel and they make you listen, this time, not with your ears but your eyes. What more can we describe as ICONIC?
It's our THRIVE ISSUE and we are excited to have Kingsley grace this edition as his life is one that perfectly reflects our theme, inside out.
Thriving in a big wide world can be a lot. Or maybe not. But regardless of whatever phase we find ourselves as creatives, certain little things remain an energy booster through our journeys. – Our stories. Our truths.
Sometimes we see ourselves in the stories of others. Regardless of our different background and experiences as creatives.
It's always heartwarming to see relatable stories that refuel our dreams and triggers the zeal to thrive beyond all odds.
Here's our Exclusive Interview with the ICON, Ayogu kingsley as he beautifully shares inspiring glimpses of his journey.
Enjoy and Stay Inspired:
Please can we meet Ayogu Kingsley?
Ayogu Kingsley is a Nigerian contemporary visual artist using hyperrealism and painting as a means to express.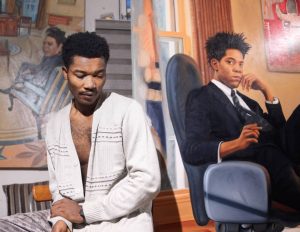 What does Art mean to you?
Art to me is a channel, it is a means of communication. It's a portal that my soul flows through.
Beyond celebrating beautiful arts, at Hello ICON Magazine, we are more thrilled by beautiful hearts. Those who combine great talent with empathy, love, passion and a beautiful audacity to uphold truth in all. We see you as one of the world's rare ICONS who perfectly reflect these and more. What do you consider most fulfilling about being an artist?
This is a good question, I am still in the process of figuring out what I find fulfilling. But to answer this question, I'll say when the work is done. I love when my ideas are brought to life and my work is hung up on the wall, ready to be viewed and engaged with by an audience. I love to share my work with other people, that is fulfilling to me.
You create works that go beyond entertainment. Your works speak. They reveal the past, the present and even the future. They cause a positive stir within and leave one with deep thoughts. Your words (captions accompanied with your works) carry life too. No doubt, this is one of the gifts that come with art. Can you share glimpses of the earlier days of your journey as an artist? Including the motivations. The challenges. And what kept you going.
In every journey, there are days you struggle. I remember those days in school where I would be scavenging for materials to work with to finish my piece. Luckily for me, I've always known that I want to be an artist. This is what I want to do, this is where I want to be, so those sacrifices and challenges I made were needed for my growth. Also, it helps to surround yourself with artists, that has also kept me going, that, and the amount of time I put into my work to master my skill. Living in this internet era has also made things easier, because I can wake up and share my process and be swamped with encouragement.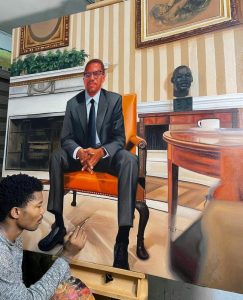 Please share the inspiration behind your masterpiece 'Oblieged Servitudo?'
Oblieged Servitudo was created in a bid to challenge my skill in hyperrealism, I was addressing the idea of digitalization and how we had all become stuck to always being online. That is an old work anyway and my old style of creating, I have evolved my practice in recent months, which is apparent in my new works and series Icons in the White House, this is the series I would rather talk about. The inspiration behind Icons In the White House is to celebrate prominent cultural and political icons that have influenced me and depict them as POTUS through the means of painting. I'm using my imagination to uplift people through storytelling.
How was growing up like?
I grew up in Enugu, it is a state in Nigeria. I remember just playing a lot and creating a lot of sketches with charcoal on the wall and on cars, till the owners would come and chase my friends and I away. My art practice is deeply rooted in my childhood.
One of our dreams at Hello ICON Magazine is to build a space where creatives which include writers, poets, painters, illustrators and all, make a living from simply doing what they love. We see you are already living this dream. And we look forward to seeing you thrive more. Can you share any quick tips for young creatives out there who are in between striving and thriving?
I hold this tip dearly to my heart, its by Toyin Ojih a female visual artist. She said that the world is moving really fast and the only way you can succeed as a creative and have a sane mind is to force a slow and move at your own pace. Work hard, play hard. Don't take life too seriously.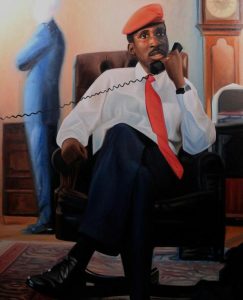 Balancing work time and rest time is a struggle for many Creatives. Please share few tips on how you try to balance work time, rest time and family time?
I think balancing your work time and rest time comes about when you keep a routine. Also when you are intentional about the kind of people that you have in your life that would help keep your mind from over thinking. I have a woman in my life, her name is Anya, which means gentle and she exudes just that. She is one of the few people who helps calm out the chaos. I have been lucky with the kind of people that God has put in my life, very grateful for my friends and family.
Do you feel Creatives in developed countries are at advantage than those in developing countries?
I think that is victim mentality, I personally don't think anyone has an advantage over me. I think if you make good work, you make good work. Maybe in terms of material accessibility, yes they have an advantage there because they could just walk out and get the quality of materials they need. But one could also just buy all those things online. I think the basic principle of art is improvisation, you have to improvise and make do with what you have. We can't afford to play victim, this is a crucial time.
Who are your 'ICONS' in the Creative Industry?
The people I look up to oscillate based on how I am feeling. Right now I love Toyin Ojih's work and among my peers I love Ekene Maduka's work. These are the two artists I am feeling currently.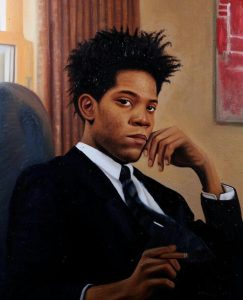 What does success mean to you?
Success to me is waking up every day and being able to do what my heart desires, being able to love, that to me is success.
Let's go a little poetic: If poetry is a rainbow and you have a choice of one color in that pallette, what would that be and why?
I love green. I have observed that in a lot of my works I use emerald green, it has just been a reoccurring color. I fell in love with the color without even knowing why. It makes me feel alive, It makes me feel warm. It has this warm feeling, I use emerald green to exude serenity. It makes me feel "selense", selense is a slang, it means floating.
If you could do a collab as a painter with any other artist, what art would that be?
Right now I want to collaborate with my friends, Arinze Stanley and Ken Nwadiogbu. We have come a long way as brothers in this art industry and it would be nice for us to commemorate .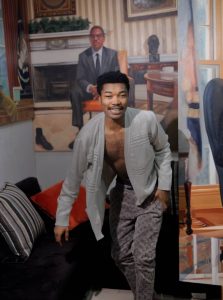 Please briefly tell us something we do not know about Ayogu Kingsley.
What you don't know about me is that I met my girlfriend because I wanted to take a picture of her then use her as a model for a painting. Now she's my girlfriend and we have been dating for a year and eight months now. She is my muse and my inspiration, she has been a blessing in my life.
Massive love Kinsley!
The ICONIC Team