I remember vividly my family staying awake the night of January 13th, 2011. It was my birthday, but I wasn't the reason my family was awake, it was the then ruling party, the Peoples Democratic Party, PDP, presidential Primary election with then incumbent President Goodluck Jonathan, former Vice President, Atiku Abubakar and Mrs Sarah Jubril vying to fly the party's flag.
My family has never associated with politics, but has always been concerned with the affairs of the nation. I remember seeing everybody tensed up as the votes were counted after the aspirants gave their speech, we knew the winner would most likely become president of the country as Nigeria is a two party state under the disguise of a multi-party system. I was young, but I can say they infected me with their contagious tension as we all stayed glue to the devil's box (television).
I remember hearing in the news the next day that Goodluck Jonathan emerged victorious with 2736 votes, defeating Atiku Abubakar, who scored 805 votes and Sarah Jubril, 1 vote. I was struck that Sarah Jubril had 1 vote. 1 vote? Yes only 1 vote even with the presence of her husband who would have made it 2 votes at least, even if all the female delegates hated her. I think I compensated myself with the fact that her husband's vote was probably among the 61 voided votes, or perhaps he didn't believe in her. 2011 was when my exposure to real political matters began even though I was still unable to vote because of my age.
In 2014, I remember being in an unreasonable long queue for voters card registration with my friend, Chimezie at Akanji Nursery and Primary School, Surulere, Lagos. That was when the Permanent Voters Card (PVC) was introduced. The centre was hell as stampede could have erupted when impatient Nigerians resorted to using physical aggression to get their way through. Chimezie and I managed to get captured, and we left with a sigh of relief for carrying out what we believed was our social responsibility for the most populated black nation in the globe.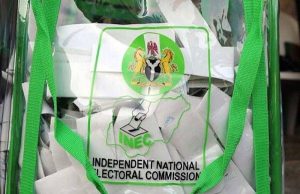 Weeks later, my neighbor announced that the voters card were ready for collection. With the joy of voting for the first voter, I ran to the collection centre to collect my card. However, I was shocked to my marrow when I could not recognize myself on my Permanent Voters Card. My picture on the card was so blurred that I could not be recognized. Flashback to the point of registration, one of the INEC adhoc staff was a senior of mine in secondary school, and I wondered how he could have done that to me. Especially since he knew I paid outermost attention to my appearance.
Prior to registration, Chimezie's family had relocated from Surulere to their newly built home in Ikorodu. However, due to the constant time he still spent at Surulere where he had lived a major part of his life, he had followed me to go get registered using my house address as his. I picked up his card, his face was also blurred, but not beyond recognition like mine. My house address he used was written without the house number, while FEMALE was used for him as his gender.
Who would have made such avoidable errors on his card? I wondered. At the point of registration, the adhoc staff clearly saw him as a man. Besides, couldn't whoever that authorized the card see his photo and his three masculine names to know his sex. This was our introduction in to the country Nigeria where some people believe nothing works perfectly.
The 2019 General election was pretty predictable to everyone with Incumbent President, Muhammed Buhari of the All Progressive Congress (APC) bagging his party ticket to contest for presidency unopposed and former Vice President Atiku Abubakar returning to the People's Democratic Party which he had previously dumped after losing the 2011 primaries to then President Goodluck Jonathan. With the money he is speculated to have, everyone expected him to bag the presidential ticket to run for presidency which he clearly did.
With the incumbent President Major General Muhammed Buhari completing his two tenures of 8 years, every Nigerian seems to be showing interest in the 2023. Already, debates on zoning the presidential ticket to the South-east are gathering momentum in the masses.
However, the ruling party, the All Progressive Congress and the main opposition party, Peoples Democratic Party seem to have jettisoned the idea of zoning, opening the space to all the zones in the country, leading to different caliber of people vying for the number one position come 2023. The Current Vice President Yemi Osinbanjo has declared interest in taking over from his boss. The national leader of the APC, Bola Ahmed Tinubu is hoping to finally fulfill his life time desire of becoming president, while Minister of Transportation, Rotimi Amaechi reportedly ran the track of a stadium in Port Harcourt to show he is healthy enough to lead the nation. The list does not end there for APC. The youngest Governor in Nigeria Yahaya Bello is also aspiring to be the youngest president in the fourth republic, just to mention a few.
In the main opposition party is the return of former vice president Atiku Abubakar trying for the last time before being caught up with age, former governor of Anambra State, Peter Obi who seems to resonate with the ordinary man, former senate president Bukola Saraki wanting to make a debut and current governor of Rivers state, Nyesome Wike boldly advertising himself with speeches he is known to give aggressively and a host of others.
This forthcoming election is certainly going to be an election like never before but, aspirants would have to first play party politics to become flag bearers of their individual parties. Social media will no doubt play a role in the coming election. However, the Saturday 25th of February 2023 election will be won through the ballot and not on social media.