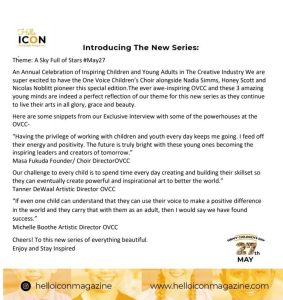 Having 4 big yeses from the judges at the Britain's Got Talent show is a dream for many. Now here's to Honey. One of the super talented singers already living this dream. Beyond being a singer passionate about her art, Honey is a total wonder and a very bright light who is constantly taking giant leaps on the journey to living her dream life as a creative.
Honey is one creative who does not only reflect so much brilliance and the beauty that comes with hard work, but also thrives as one carving a niche for herself, thinking outside the box and maintaining originality.
Here's our Exclusive Interview with Honey as she beautifully shares her journey as a creative.
Enjoy and Stay Inspired: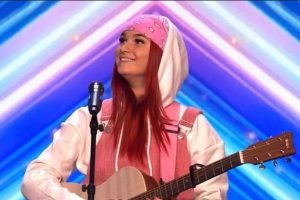 Please can we meet Honey Scott.
EVERYONE! First off i'd like to say thank you to Hello ICON and the rest of the team for having me! My name is Honey Scott and I'm an independent 17 year old singer, songwriter, from a very tiny village called Sible Hedingham. I've recently started college studying all things music and performance, where I'm lucky enough to be practicing my passion everyday, whilst meeting incredible musicians and making lots of friends! I have an older brother ( Harrison, 21) and a younger brother (Herbie,7) which makes me the middle child… I had to grow up wearing Harrisons hand me downs but it's Herbie we should feel sorry for because he has to wear mine hahaha!
What does Art mean to you?
Art, to me, is anything that expresses one's emotions, feelings or views. The freedom art gives is amazing, there is no wrong or no right, which arises the opportunity to communicate just about anything. Sometimes it's easier to pick up that paint brush, pick up that pen and paper or pluck those strings than to say anything at all. The arts have always been my passion from an early age, I always knew from the moment I could use my vocal chords that I wanted nothing but to be creative. Personally for me, I grew up around music and instruments, as my mum would educate me on all of the 80s hits whilst my dad would show me my way around a piano, I can always look back at a time of my life and relate it to a song, good or bad.
Can you remember the first song you wrote and what inspired it?
The first song I ever wrote was back in 2018, a song of mine called "Grass Is Greener On The Other Side." This song was created very quickly surprisingly as once I started I just couldn't stop. I remember my dad telling me I should try writing my own music as I just wouldn't stop singing, I proceeded to tell him that that was impossible and I'm no Billie Eilish! For my 16th birthday my dad kindly gifted me all of the gear needed to record my very own songs from home. I remember being in my room one night and messing about with some chords on my iPad until I decided to stop being so stubborn and just try! If I'm honest, I didn't have any inspiration for the song, because at this point I was trying to focus on what words rhymed with what! I remember sending the song to all my friends and family and they all were so supportive and loved it! At the time I remember thinking that song could top charts and sell out arenas… looking back, maybe not! But it's funny how things work out like that, although I wouldn't create something like that now, I can still listen back to pure nostalgia! I haven't taken this song down off my streaming platforms because I like to leave it up there as a reminder of what I've achieved!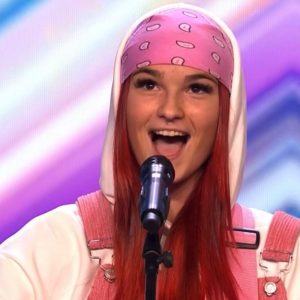 You have a beautiful and powerful voice! But beyond this, one can feel the passion and emotions in the songs you sing, which makes it more beautiful. How would you best describe your type of music and what's that one message you would want the world to know you for?
I struggled with this question as, after thinking on it for some time, I couldn't quite catagorise all my songs with one word! I don't really have a set genre or style as I looovee trying new techniques and producing styles with different tracks. Asking me to describe my music is like asking me how I've felt everyday in word…. It changes. I could describe it as… therapy for me. Depending on the situations and feelings that day, depends on the sort of style I create! This leads to my next point of trying to not be the same! One message I would want the world to know me for is simply be yourself! I struggled with school as I wasn't the same as everybody else… but I believe I always tried to not give in to the pressure to reform. This wasn't the easier option but it made me who I am today, and I look back now and I am proud that I didn't just become a chameleon and stuck to my guns. It makes me so happy when I see people younger than myself being who they are, it takes incredible courage at the time but when you grow up, you realise its what's most important.
The world would no doubt know your name. We see you as not just any singer but one that would rise as a force and bright light in the industry soon. Can you share some quick highlights of the inspiration behind your journey into music? The motivation to start and what has kept you going.
So far, I'd say my biggest highlight was Britains Got Talent! The feeling I felt whilst being on that stage was unmatched, as soon as I finished singing I just started crying so suddenly, I didn't see it coming, my body was just so overwhelmed in the best way possible. Aside from this, I'd say my highlights are simply my gigs. Again it's just an incredible feeling and adrenaline rush that I can't get anywhere else! I can't wait to do more gigs and meet new people along the way!
My motivation comes from things like BGT, gigs, seeing my music meaning something to people, etc. as soon as I see an impact it makes me wonder what else I can do… it's like going to the gym, once you start it's a long ride but as soon as you see those slight changes you get addicted to seeing what else you can achieve.
Have you ever had to struggle with self doubt at any point? Or perhaps the fear that comes with stage fright? If so, any quick tips on how you were able to manage and overcome it?
I have indeed, like everyone, struggled with self doubt! The times I have been the most unmotivated were probably mid lockdown and some points in secondary school. Lockdown was very hard for me, creatively, as I wasn't going out and experiencing new things so my creative side really struggled to come up with new things. After a while I slowly gained back motivation, I learned that even just by playing my guitar everyday for an hour I was still keeping my creative side stimulated, slowly bringing it back up to scratch. I have only performed in three gigs so far, but before each one I still get very nervous! The first gig I ever did was at a fete in Gosfield… I had all of my friends and family there and that's what worried me the most. Strangely I get less nervous when I perform in front of strangers, I think its because I care more about what my family and friends think.
One of the biggest moments for you right now is no doubt the experience at Britain's Got Talent. Having 4 yeses! Is no small feat. Can you share a few highlights of your expectations before performing and the feelings that came after the reactions of the judges?
The upcoming months before I performed in the palladium for BGT, I had absoloutly no idea what to expect! I knew it was going to be scary and nerve wracking… but that's about it! I remember I could not sleep properly for at least 2 weeks before… and don't even get me started on my nights sleep the night before! I was practicing at least 10 times a day, I would walk around the house with my guitar just singing my song over and over and over and ov- well you get the idea! Walking on that stage I just remember thinking, wow. That was by far the biggest audience I have ever played in front of… and that wasn't even a 100th of the people that would be seeing my performance, just crazy! After the judges told me their opinions and said their verdicts, I was over. The. Moon. It did not feel real, in fact the only time it ever sunk in, that I actually did that, was when I watched it back for the second time, the first time it felt like someone had green screened me in next to ant and dec!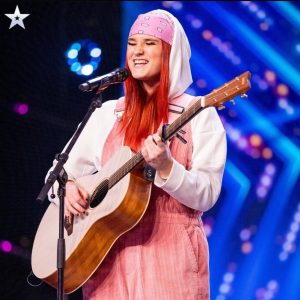 Balancing work time and rest time is a struggle for many Creatives. Please share few tips on how you try to balance work time, school time, rest time and family time?
Personally for me, I find balancing time between my career, education and family and friends quit easy! I think it's because if I were to be making music I would be doing it at home, with my family next door, if I were to be at college I would be with my friends as well… also still doing music. I am so fortunate to be doing everything I love with the people I love all at once!
You ain't just a great singer but you also play musical instrument- the piano and the guitar. So admirable! Is there any special reaosns for choosing these particular musical instruments?
I started learning piano in year 5 when my mum thought it would be a good idea to get me some lessons! I had always grown up around a piano, as my dad is what I call a musical wizard! He can work out most songs by ear and used to let me play his keyboard from when I was very little!
What's the inspiration behind your album- Honey Dreams?
This album was inspired by many different things. Each song was inspired by a different artist or track, making it a very unique piece. I've always been inspired by Billie Eilish and so by default she inspired all of it technically. I watched her "The Worlds A Little Blurry' documentary and it inspired me so much to just keep going with what I'm doing and to create a more professional project… and there "Honey Dreams" was created.
If you could do a collab as a singer with any other artist, what art would that be?
As I've mentioned I think my area collaboration would be the one and only Billie Eilish… as well as this I would love for her brother FINNEAS to work on a track with me, I think that would be so cool. I also really love Jorja Smith, Drake, BENEE, Robyn and pretty much everyone that has ever made music ever! Since my BGT performance alot of people have compared me to Lucy Spraggen, I knew of Lucy due to her popularity on XFactor back in 2012, but had only ever heard a snippet of her song "Bear Fear"! After I read all of the comments comparing me to her I listened to a couple of her songs and they are amazing! I would love to collab with Lucy as we have very similar styles and think we could make something really cool together!
Who are your 'ICONS' in the Creative Industry?
My icons in the music industry are once again Billie Eilish and FINNEAS. I think their story is so interesting and a one in a million chance! I'm inspired by not only Billies music and lyricism but her fashion as well, she definitely doesn't try to fit in which is what I love! I love FINNEAS' way of producing and the way her first and second albums were all made at home in their home studio… similar to me!
What does success mean to you?
Success to me is being happy. You can have millions of pounds in the bank or be selling out stadiums worldwide and still be unhappy, would you count that as being successful in life? I would love be able to make enough money to get by just by creating music and performing shows ..literally the dream! I know how hard it is in the industry so I believe dreaming is all well but when it comes to setting realistic goals you have to be brought down to earth a little. All I want from my career is to make enough money to have music as my main source of income and most importantly HAPPINESS!
Let's go a little poetic: If poetry is a rainbow and you have a choice of one color in that pallette, what would that be and why?
This question has me thinking and thinking and thinking… I think I would choose yellow because it, to me, represents happiness and positivity. It also represents the sun… a new day/ end of a bad day.
Please briefly tell us something we do not know about Honey Scott.
I think I have watched the bee movie more times than I touched grass. I have no clue what it is about the film but if you would like me to quote it beginning to end all you need to do is ask.
Thank you again to the team at Hello ICON for this opportunity, I'm beyond grateful!
Thank you!
Honey Scott
MassiveLove Honey!
The ICONIC Team