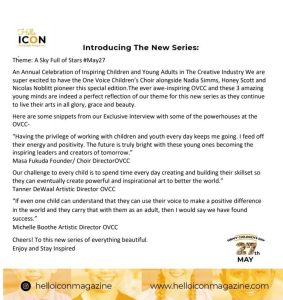 The life of Nadia perfectly paints the picture of a young mind with an old soul and a beautiful heart. We see it all. The warmth and brilliance that escorts her words. The grace and joy she breathes. Her beauty, inside out.
Nadia thrives as a Netflix, Bet+ and Nickelodeon Star Girl who recently started her unique journey as an entrepreneur. She describes her makeup company as one for "the young adolescent and young at heart."
A brand designed to maintain one's authenticity as it enhances natural beauty while evoking confidence.
Here's our Exclusive Interview with Nadia as she beautifully shares her journey as a creative.
Enjoy and Stay Inspired: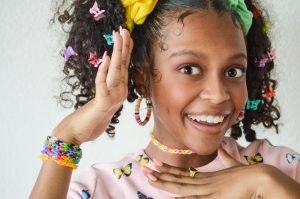 What does Art mean to you?
Art is something that you can relate to and be passionate about. Art is also an outlet to help you deal with life's troubles and even life's celebrations. I feel like art can be shown and used in different ways to relay a message. It can transcend differently for different people like music, or a painting, or a dance. Art is special and unique to the individual.
You're no doubt a total inspiration and a bright light in the entertainment industry and beyond. Your grace and maturity even as one so young is awe- inspiring.
Can you share some highlights of your journey as an actress and what inspired you to begin this journey?
Thank you. I was very young when I started my journey. 6 months old to be exact. My mom decided to sign me up for modeling at that age so I kind of had no choice. LOL. When I got a little older, I became aware of what I was doing and actually liked it. Like a lot. Then when I got even older (5 years old) I told my mom I liked modeling but was tired of taking just pictures so that is when I started getting into acting. From then, I booked a few commercial, a series regular role, and a few films. I had the chance to work with and learn from some amazing actors/actresses such as Chris Rock, Russel Hornsby, Marla Gibbs, and Tia Mowry-Hardrict along with some great directors such as Nia DaCosta, Bill Duke, Christopher Nolan, Mark Harris, and Steven Caple Jr. just to name a few. After all that being said, I would say my mom is the one who inspired me and still inspires me.
The BET+ holiday film- 'A Christmas Wish' was no doubt a big one. How did you feel being a part of the project?
A Christmas Wish was such a special project to me. It was directed by Christopher Nolan who is often called "The King of Christmas movies." I absolutely love the holiday season and being able to star in a feel-good family Christmas movie was the best thing ever! Not to mention I got to be on set with my acting BFF Anah Ambuchi who plays my friend in the movie as well. We just filmed the sequel which will come out this holiday season 2022. Getting to work with Christopher Nolan again and some of the old cast who were incredible like Noree Victoria and Blue Kimble along with meeting some newer cast members like the incredible Victoria Rowell, Aaron Spears, J. Marc Jones, and Tiffany Snow was amazing. Also working with another one of my acting friends Cayen Martin in the sequel was super special and I cannot wait for everyone to see it!
We see how you beautifully combine your journey as a creative with being an entrepreneur as founder of YummiPop Cosmetic. Please share the inspiration behind the startup and the key principles that is helping you thrive in business.
YummiPop came along during the pandemic. I was bored at home because nothing was open, and started scrolling through YouTube, I came across a very interesting video on how to create your own natural and organic cosmetics. I was very intrigued. For me, growing up I was never really a "makeup girl" but I did love my lip gloss and lotions. After looking at a few YouTube videos I told my mom I wanted to start my own makeup line but not any makeup line, I wanted to create something unique and fun. I created YummiPop Cosmetics to be the quintessential hub for all things positive and beauty. YummiPop is for the young adolescent and the young at heart. My products are meant to enhance your natural beauty and evoke confidence all while still keeping you looking like your beautiful self. The packaging is fresh and colorful and the scents are divine. Check me out at: shopyummipop.com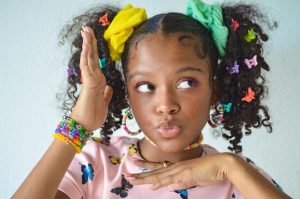 The relationship you have with your younger brother is one that is so adorable. Please share few tips on how you try to balance work time, school time, rest time and family
time?
Not gonna lie, it is a total struggle. I even get frustrated when I have too much on my plate but I always have to make time for my family because they are the ones that keep me grounded and I have the most fun with my little brother Lennox. He is my biggest supporter and we are the best of friends. A big tip I would tell people struggling with time is to make a list of all the things that need to get done in that one day and check mark it off as you get it done. Don't be too hard on yourself if you don't complete it all. There is only so much time in a day, there is always tomorrow.
The God factor is one you uphold so high. Any quick highlights of how this has been a part of your successes through the journey?
God has always been a part of my life. My parents have instilled that in me. I thank God daily for my opportunities, my family, my friends, and my health.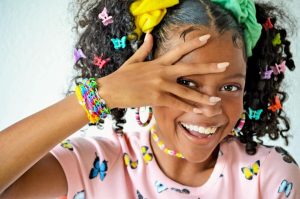 If you could do a collab as an actress with any other artist, what art would that be?
Acting is my true passion. So, I would love to work on a production with Yara Shahidi, Zendaya, Storm Reid, Marsai Martin, Halle Berry, Viola Davis, Lupita Nyongo, Oprah Winfrey…. There are just too may to name but wanted to throw a few names out there just to speak it into existence.
Who are your 'ICONS' in the Creative Industry?
I absolutely love Yara Shahidi. Everything she stands for and the way she carries herself is just golden to me. She is not that much older than me but she has accomplished so much and is still going. She is definitely an ICON to me.
What does success mean to you?
Success to me means being true to yourself. If you feel successful then you are. Your success may be different from your neighbor's definition of success so stay true to yourself and keep striving to do your best!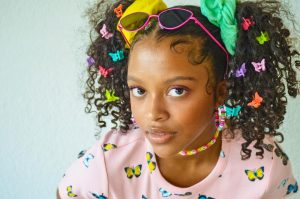 Let's go a little poetic: If poetry is a rainbow and you have a choice of one color in that palette, what would that be and why?
I would choose the color yellow. Why because yellow reflects positivity and it makes me feel joyful.
Right now, the world knows you as a talented actor, model and entrepreneur. Please briefly tell us something we do not know about Nadia Simms.
Weird fact but I was born with two extra fingers so 12 in all. I don't normally just go up to people and tell them this but if you look at my hands you can see where they used to be. I am not self-conscious about it anymore; I have learned to accept it.
Massive Love Nadia!
The ICONIC Team