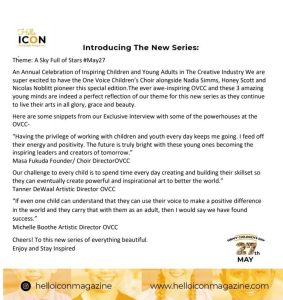 Music is food for the soul and The One Voice Children's Choir serves a balance diet time and again! It's how they turn every song they touch into gold. Always, a pitch-perfect with consciously selected edible lyrics. It's how they use music to warm hearts in a cold big world. It's the power in their voices and how their songs uplift. It's the passion in their eyes, like bright light paving beautiful paths in dark places. It's the testaments of healing, health and wholeness that comes from their listeners around the world. It's how the entire team reflects the beauty of togetherness, love, diversity and inclusion. It's the joy, the happy tears and every emotion evoked in every song. It's the melodies and harmonies teaching how the world could be. It's everything for us at Hello ICON Magazine, where we celebrate those who combine talent and creativity with empathy, love, kindness, all geared toward real time impact.
All thanks to The One Voice Children's Choir for being a total reflection of these and more.
Here's our Exclusive Interview with the founder and choir director,Masa Fukuda, along with the artistic directors Michelle Boothe and Tanner DeWaal, and of course some of the amazing kids on the team.
Here's to their beautiful journey and some stories behind the scene you probably didn't know.
Enjoy and Stay Inspired: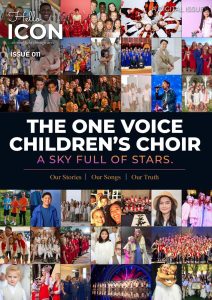 To Masa Fukuda (Founder):
At Hello ICON Magazine, we see you as a huge source of inspiration. A unique and beautiful type of inspiration away from the regular. We believe The One Voice Children Choir is a legacy that would live forever, a legacy of healing, health, and wholeness. One that brings joy to hearts and so much positivity in a world seemingly full of negativities. Being the brain behind this ICONIC creation is no small feat, please share what inspired this dream and some cherished highlights of the journey so far, including the motivations, the challenges and what kept you going.
Masa: Thank you so much for those kind words. I feel so fortunate to be a part of the legacy of this organization. Our creative team is truly a dream team so I can't take credit for everything. Each song and each music video is the result of hundreds of collective hours by our choir members and passionate team. Even though many refer to me as the founder of our organization, I really consider myself a cofounder along with the original group of kids who fought for us to continue together 20 years ago. Although we've encountered many challenges over the years and most recently being with the pandemic, I continue to be amazed by the perseverance of our choir members and their families who have contributed so much time and energy toward our collective mission. The Choir has been fortunate to perform on hundreds of stages over the years, but more than anything, seeing a glimpse of positive impact on an audience continues to be one of my favorite parts. Having the privilege of working with children and youth every day keeps me going. I feed off their energy and positivity. The future is truly bright with these young ones becoming the inspiring leaders and creators of tomorrow.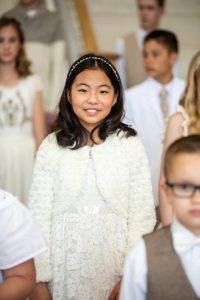 To Tanner DeWaal (Artistic Director): What does Art mean to you?
Tanner: Art is an opportunity – a chance to inspire someone, and some of the best pieces of art solicit a bit of change in the creator and person viewing or interacting with the art. At One Voice Children, we work to help children understand that art takes work. And with that, day to day consistent and habitual work will yield tremendous results down the road. That's the first step in creating: developing skills and technique. Children who develop a healthy toolbox of skills will be able to create more freely in their older years without as much limitation. Our challenge to every child is to spend time every day creating and building their skillset so they can eventually create powerful and inspirational art to better the world.
To Masa: We believe in the beauty of diversity and we see how this is very reflective in the One Voice Children Choir. What would you consider some of the major elements/principles that has helped the team thrive, time and again? This is from the time of rehearsals, to production and all.
With the reach of One Voice Children's Choir, we feel a strong responsibility for the choir to represent the children of the world. Major thought is put into what we capture in our music videos to ensure that children around the globe have someone they can connect to in the video – whether it be age, body type, skin tone, etc. We are constantly reevaluating and updating our programming to offer more support and resources for diversity and inclusion. The largest thing that contributes to the achievement of the choir is dedicated time and we have been lucky to have so many willing to contribute hundreds of hours and often above the required amount. When the choir members have put in the time to be prepared with their music (they learn their music outside of choir rehearsals and then we put the songs together in rehearsal) we are able to dive deeper into meaningful performance practice during rehearsal. As we embody each song as a group, there is a palpable energy that is uniquely powerful. This then allows us to go on to perform in music videos and live performances in a way that supports us accomplishing our mission of inspiring the world through the power of children's voices.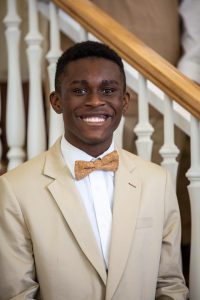 To Masa: What inspires the cover songs you choose torelease?
The fun thing is that every song has a unique story of how it was selected. We have a running list of dozens of songs that have been suggested by choir members and their families, our fans and team members. We enjoy a variety of music from new pop songs to older classics. We also are now in the exciting journey of writing original songs with some of our choir members.
To a member of The One Voice Children Choir, Emilija: Can you share a quick story of how you joined the team?
I found the choir through YouTube, took some of their singing classes that are open to the community and then auditioned for the group. It continues to be one of the best decisions I have made.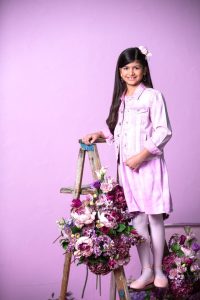 To a member of The One Voice Children Choir, Ian:
What will you consider most fulfilling about being a member of The One Voice Children Choir?
Getting to share heartfelt music with the world and lift people's spirits. We all need that. I also enjoy performing for great causes. This last year we got to put together a song for Feeding San Diego who works to feed the hungry in their area, truly inspiring.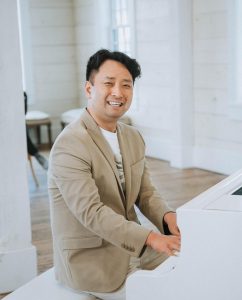 To a member of The One Voice Children Choir, Hannah:
Have you ever had to deal with stage fright? If so, how were you able to overcome it?
I think it's common to feel stage fright, especially us as kids, our voices are still developing and we are still learning. I find that the more I have prepared and practiced the less nervous I am. Another thing that helps is remembering why and who I am doing this for. The moment I remember it's not about me and more about service the more at ease I become.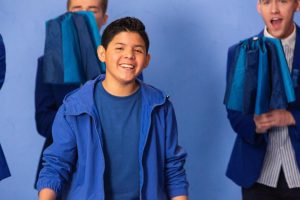 To a member of The One Voice Children Choir, Carson: Who are your 'ICONS' in the Music Industry?
My favorite band ever is Journey because I really like their sound and music and they're really fun to watch perform. I also really like Ryan Tedder's producing style. I want to be an artist myself someday and I totally respect anyone who works hard to make it happen.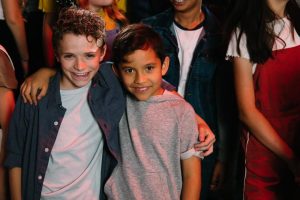 To Michelle Boothe (Artistic Director): What does success mean to you?
I love the definition in the oxford dictionary of success: the accomplishment of an aim or purpose. We measure our success on whether we are accomplishing our mission of inspiring the world through the power of children's voices. We also look at how well that mission is inside the heart of the members of our choir. If even one child can understand that they can use their voice to make a positive difference in the world and they carry that with them as an adult, then I would say we have found success.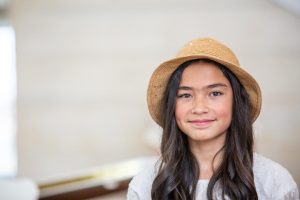 To a member of The One Voice Children Choir, Ellie:
Let's go a little poetic: If poetry is a rainbow and you have a choice of one color in that pallette, what would that be and why?
I would say my favorite is black because it is the absorption of all the colors of light. It takes every color to find beauty and every voice to make peace, I can't imagine not having all the colors.
To Masa: Please briefly tell us something we do not know about One Voice Children Choir.
We are just getting started! We promise that people out there will want to come along for the journey of this group. We have big plans to help make the world a brighter place and hope to continue to spread joy for years and years to come.
Massive Love
To The One Voice Children's Choir
Always,
The ICONIC Team.