We love creatives whose works we can relate to on a personal level. Chidinma is one of such creatives. With exceptional brilliance in addressing sensitive issues like mental health and self image, her works resonates deeply as each carry a message within. Perfect display of 'where Art meets purpose.' Beyond being a super talented artist, Chidinma also stands out as one that has a beautiful heart, we are happy to see how this has influenced her works over the years. As always, artists like this who combine creativity with empathy, love and kindness are the real ICONS. Here's to Chidinma!
Join us on this special annual issue-
As Chidinma shares glimpses of her journey as a creative and everything in between:
Your works carry powerful messages. The passion behind every of your piece can be deeply felt. You are one artist that reflect the beauty of art, inside out. Can you please share a glimpse of how you began your journey as a painter.
My interest in art generally started from my teenage years.I use to draw when I was much younger but I got more interested in painting when I saw my lecturer Mr. Eldragg Okwoju's paintings and it created a spark in me. After studying painting major in the University of Benin, I decided to be a professional painter and also an art teacher, but after a while I took the decision to resign as an art teacher and follow my dream of becoming a a full-time studio artist.
We see the deep message behind your work -'Self Images.' Please share more on the thought process behind this masterpiece.
The painting titled "self images" was inspired by my personal life experiences, talking about the three personality that we humans tend to possess, the painting has three portraits which represent the three faces that we portray, we have the first which is the perfect portrayed to the public, the second which we display to our family and friends, then finally the truest of us which we hide from everyone. Furthermore we grow up with our families and we meet people everyday and we have different expectations from those individuals, different people with different opinions and expectations. Different perception of good and bad. Therefore, it influences the way we deal with people.
Can you remember the first painting you made and inspired it?
The first painting that I did was a portrait of me which I did with a poster colour. The inspiration behind it was just me trying to express and explore my creativity.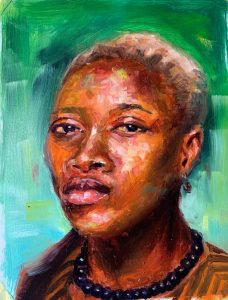 How was growing up like?
Growing up was a great experience, I wasn't much of a talker growing up and I developed a way to express myself better through drawing and it was the best way to actually do something interesting.
What does Art mean to you?
Art is self reflection and a means of self expression for me.
Please share the inspiration behind the work – 'Who Really Cares.'
'Who really cares' was inspired by an emotion that I caught from a story about a young creative that committed suicide, I believe our society needs to do more on mental health awareness, because we've had several cases of people committing suicide just like the young creative that inspired this painting and the thought that came to my head was "Who really cares."
Dreams. We believe every creative has a dream. Aspirations and goals that give us utmost fulfillment when we reach them.
As a creative, how would you best describe your 'dream life.'
Dreams to me means life, because my dreams are what keep me going knowing that I have a lot that I dreamed of and hope to achieve.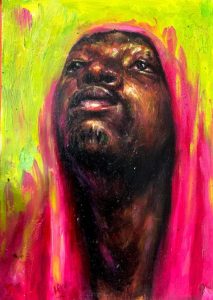 Do you feel creatives in developed countries are at advantage than those in developing countries?
Yes, sure they are. Though the Internet has made everything so easy. It's easy to network with other creatives from any part of the world.
We understand how balancing work time and rest time is a struggle for many Creatives. Please can you share a few tips on how you try to balance work time and rest time?
It's all about planning yourself and working towards the plan.
What would you consider most fulfilling about being an artist?
Being an artist gives me to opportunity to be free in expressing our thoughts.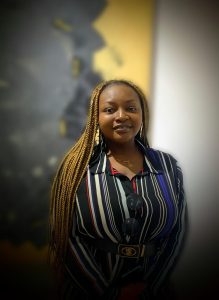 If you could do a collab as a painter with any other artist, what art would that be?
Animation
Who are your 'ICONS' in the Creative Industry?
Anthonia Nneji, Harmonia Rosales
What does success mean to you?
Success to me means being able to fulfil your purpose in life.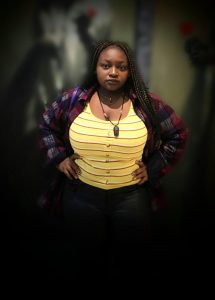 Let's go a little poetic: If poetry is a rainbow and you have a choice of one color in that pallette, what would that be and why?
Green. Because green means growth and to me life is all about learning and growing everyday.
Please briefly tell us something we do not know about Chidinma Stella Nwafor.
My art style is impressionism-realism. I love to explore different colours on my paintings because colours kind of intrigues and inspires me to paint.
I'm a full-time studio artist based in Lagos Nigeria.
Massive Love Chidinma!
The ICONIC Team.