Isn't it one of the most beautiful things in life, to not just live your passion full time but also do so with the love of your life. This is the awe inspiring story of the ICONIC artist, Emmanuel Isiuwe whose love for Art began at a very young age. His story is one that perfectly reflects the beauty of brilliance, perseverance and creativity combined.
Join us on this special annual edition as Emmanuel shares glimpses of his story and a number of quick tips on how to thrive in your creative journey and beyond.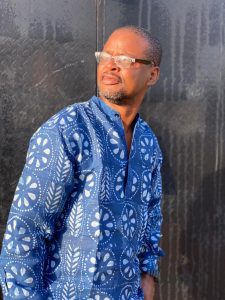 Your works reflect an outside the box style of Art. As it should be, they tell stories and inspire at a glimpse of each. Can you please share some highlights of how you began your creative journey?
My creative journey started long ago as a child drawing on my primary school notebooks from comic characters of the Marvel, Dc characters like Spiderman, Superman and funny cartoon characters from Beano, smiler, and leopard kid from lime street were my early drawings to name a few, this started around the age of 4/5 yrs old in Ibadan, where I was born, to the family of a police officer Mr. Japhet Anyansi Isiuwe from Idumuje Ugboko, Delta state. My family and I later moved to Lagos State in 1977 after the Festac 77 era. I continued in my usual drawings on mostly school notebooks until I got into secondary school in 1980- United Christian secondary schools Apapa. Here, my art teacher, a Ghanaian,Mr. Akwua , said at that time that I should consider being an artist and be serious with my fine art as he saw me being an artist because my method of drawing was from within my expressions. After my secondary school education I went to Auchi polytechnic, through my sister's friend, late Reuben onyia an alumnus of the institution who encouraged me to come and hone my skills at the institution where I obtained my OND/HND.
It's so beautiful to see you practice Art with your wife, Angela Amami Isiuwe. What we like to describe as an artistic love story. What we love to see. Can you please share some glimpses of how it all began. Also, please share the impact of having a supportive partner as a Creative.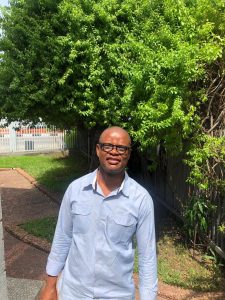 Our story. I came into Auchi in 1986 for my OND and my wife came a year after. I was a year ahead of her in class. I was an introvert with a keen and observant outlook in my ND2 while she was in ND1, I always liked a petite statured woman, which she was. I kept an interest in her quiet demeanor. Whenever she passed my class corridor, my heart skipped a beat towards her, I never talked to her at all , I only admired her from a distance. I went for my one year compulsory industrial attachment at LTC Advertising agency, instead of a year I was carried away with the experience, which made me to meet her when I came for HND. She was the only female candidate in the painting department for that year in 1990. I also resumed late for school and a friend brought me to see the only girl in my class, Voila it was my crush in my ND days! That's how our relationship started. As a partner in the creative industry she knows when there is funds and when it's time to get by. She has been able to juggle the situations well and when there's a creative block in one person, the other is working and a fire is kindled in you to do something too. So we hold and compliment ourselves to work a lot.
Can you remember the Artwork you made and what inspired it?
The stallion horse is one work that comes to mind. It's 8/10 ft acrylic on canvas. It was done two months after I returned from America in 2007, I wanted to paint a work the size I have never tried before. I've always loved horses and I remember seeing some horses galloping through a river in a movie in slow motion and knew I had to paint such Majestic creatures. I went ahead to buy some horse magazines and visited the polo club. I made some sketches, took photographs, I equated the horses to the various brands of cars today and the reasons why horsepower is a unit for measuring power fascinated the production of the work.
What does Art mean to you?
Art to me is making use of first drawings to express oneself in various ways and forms.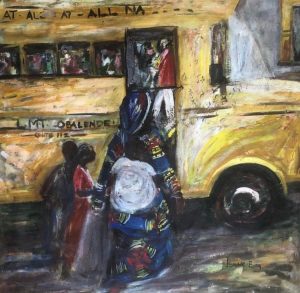 We are grateful to have you onboard this special ISSUE with the theme- Girt, in celebration of inspiring men in the creative industry, also to mark the 2022 International Men's Day. We understand the growing need to build a culture where men can express emotions like shedding tears without the fear of being looked down upon. The need to create spaces where men can be their most vulnerable selves with family and friends without the fear of being seen as or called a weakling. Do have any personal related experience to these? Can you share any quick tips that could help to normalize mental health related issues for both men and women?
Men go through challenges like women do. In the quest to be a provider, he comes across all manners of degradation to make a living. In most cases, he overlooks certain stereotypes and may sometimes cry out his frustration alone. Personally, I think men that cry have it easier than those that bottle it all up. When those that bottle up their emotions can't take it anymore it turns ugly for them and even those around them.
For our mental health stability as men, I suggest one should learn to prioritize or separate work from home issues.
For my wife and I as artists, what we do is take a pause out of our environment as a couple to a resort every now and then, to unwind and recharge mentally, spiritually and emotionally.
This has helped our relationship as a couple.
What do you consider most fulfilling about your creative journey right now?
That through this creative endeavors we've been able to put all our five children through tertiary institutions, without other side hustles.
Do you feel creatives in developed countries are at advantage than those in developing countries?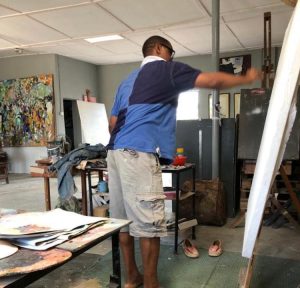 Not at all, all creatives improvise, so your location doesn't matter anymore especially now that the world is a global village with internet you can market your work much more easily.
Balancing work time and rest time is a struggle for many Creatives. Please share a few tips on how you try to balance work time, rest time and family time?
Like I said we go out for quality time every now and then to a resort or a guest house to unwind, the last of our child is now in the university, but when they were younger, we couldn't make time for a time out. Now, we can.
What does success mean to you?
Success for me in the art is after making a piece someone is willing to pay for it, that in itself is a form of fulfillment.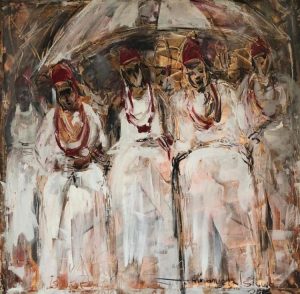 Please briefly tell us something we do not know about Emmanuel Isiuwe.
I am someone that loves God and loves playing lawn tennis, table tennis. I do a bit of Taekwondo, play basketball and a stay fit.
Let's go a little poetic: If poetry is a rainbow and you have a choice of one color in that pallette, what would that be and why?
The colour green in all the various hues appeals to my sensibilities easily, why ? Maybe because it's the colour of new life, growth and that's why I am a strong believer in Nigeria as a project, occasionally white is always somewhere around me too.
Massive Love Emmanuel!
The ICONIC Team.