Fatou is that creative journalist consistently breaking limits and carving a niche for herself and other budding creatives out there. She commands what we like to describe as a beautiful audacity to thrive while doing this with style and much grace. Fatou is also a creative entrepreneur, who is among the new generation of doers and changers placing the African economy on the world map in golden letters.
Join us on this special annual ISSUE- As Fatou shares her awe-inspiring story of how she began, what keeps her going and a truckload of other inspirations on her journey.
Enjoy and Stay Inspired
You're a truckload of inspiration. Your beautiful audacity to thrive in your own style and uniqueness as a broadcast journalist who combines creativity with hard work and empathy, all geared towards impact. Can you please share some highlights of how you began your creative journey as a broadcast journalist?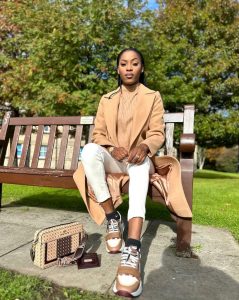 My journey and how it all started. It started when I was 13 in grade 7, I started as a right child activist going to the radio station talking about child right talking about young people, issues affecting us, burning issues, and societal issues. This was how it all started, this was how my exposure to Media all began and during that process, I realized that I found myself a talent and it was in reading and speaking and that was how my whole love for writing came about. I realized that I fell in love with the mic, I fell in love with being on-air, speaking, and then people would tell me that my voice was lovely. I told myself, " OK, maybe this is something worth looking into, also because when I was much younger, my family felt I was asking a lot of questions, so they had already instilled the idea of oh you should be a journalist in my head. When I grew up and it was time to enter the university it meant that I has to look at myself inward and tap into my potential and decide to pursue a career I could be successful at. For me, it was pretty much easy to go into journalism because already I had carved an inch for myself in the media as an activist that uses the media to disseminate information, so this was how it all started.
With a thriving career in broadcast, you moved on to your entrepreneurial phase launching the Gambian Shoe Brand. Can you share the vision behind your brand and what you hope to achieve through it in the coming years?
So as I thrived in my care, I realized that I didn't want to box myself into just one thing. Yes I've been able to cover an inch for myself and this is what people know me for, I don't only report I also present news, I present foreign affairs programs and also I speak at events. As an MC I have done this at the international level as well. Then I thought to myself, it is good to diversify. In everything you're doing it's good to look into ways that you can also do something that is still relevant and that will be profitable for you as a person. I decided to think of ideas and the kind of shoes I want I don't really see them in the market, it's either you import or get them online. I thought, if other countries were able to have such shoes for themselves why not start something as I was really looking for a gap business market. Young entrepreneurs are doing the same things, they're into clothing , design and I wanted something different and yes we have a local market of shoemakers but are they really giving quality and up-to-date modern type of fashion? I realised this was what I wanted, even when I travel, when I go to stores I'm looking for Zara type of brands because there's a way the shoes are made and this was what I always wanted. So I decided to carry out a study in Senegal where they really have a vibrant show industry. Most times they make shoes but are they really making shoes that I'm looking out for? When I went there, I saw the talent and I could blend this with my experience with shoes. It was very much easy to fall back onto this idea because there was already a gap in that market in Gambia. I had already found someone that could produce the shoes for me all I needed to do was to come up with an idea of a design and how I wanted it to be done. To my surprise when we launched it at first, Gambians were so receptive, we sold out within two weeks and I felt like this is what I should do right now so I focused on it.
What does Art mean to you?
Art for me is expression but expression that is sophisticated. It is sometimes not easily understood in its ordinary form, it's liberating and that is the most sophisticated form. Sometimes, being able to express yourself is not the easiest thing to do and so the process itself is liberating. When you are able to liberate yourself I feel that is sophistication. Self-expression sometimes does not come in the easiest form; it takes a lot of internalizing.
We are grateful to have you on board this special December ISSUE. What's your
favorite part of the holiday seasons?
For me the best part of the holiday season is that there is so much colour, the way kids move around shouting and being excited around the Christmas tree. Just the fact that people feel like it's a moment to smile, to laugh, and to share. I think for me the serenity that the holiday season comes with, the beauty, the merriment and the sense of community it brings is so lovely.
From winning top awards in journalism and even fashion, to becoming a Fellow at the Global Media Forum among other victories. What would you consider most fulfilling about your creative journey?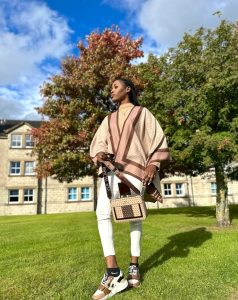 For me it's just doing what you love and when you do what you love you don't get tired because it's the passion that drives you. I realise that a lot of people fell in love with my personality more and that is because as I'm doing my job, I am showing that I'm being myself and that in being yourself people will be forced to love and be drawn to you and what you do.
you have to realise that as you're being yourself in the process you have principles that bind you, you have morals, and you also have a responsibility to yourself as a person, to your community, and to your country. I think it starts with just being authentic with yourself and what you stand for.
We see the amazing works you do as Founder of a National Poetry Competition. Are you also a poet? Why poetry? What's the big dream for the platform?
I have stopped writing at some point but I still consider myself one because sometimes I still get the inspiration. It all started when I was in high school, when I was in advocacy, the young people in the media were asked to look inward and realise what our talent was. For me I realised I loved writing and reading. What more can come out of writing, I thought to myself; poetry perhaps so this was how it all started. I discovered that I love poetry so I decided to do a poetry slam as it was done in other countries, we had partners in the UK that were doing slam poetry and we didn't have anything like that in Gambia so that was how it all came about. I spoke with the director in the IT and he was so in love with it so within two weeks we decided to put the application out there for young poets to come on board and take part in the national poetry slam which is the only poetry slam competition in Gambia, now our winners are able to make it to the African cup of slam poetry and my aim is to really take it further.
Do you feel creatives in developed countries are at advantage than those in developing countries?
I would say absolutely because this is yet to be explored in other countries and continents, the need to commercialise is what's lacking in most countries. The market also is a contributing factor because our creatives are not really gaining as much as they should because people are still trying to understand how well we can really tap into this resource. Also, we need people willing to put in necessary investment.
How was growing up like?
So growing up, I lived with my mum, my dad and my siblings. My dad was my best friend but at some point he had to go back to Gambia. After he fell sick we, had to live with only our mum and she became a single mother after the divorce. I learnt to be strong for myself at a very early age as a girl and as someone who was raised by a mother who felt she needed to be twice as strong for her girls, I realized that at a very early age I had to be responsible, that I needed to be focused, that I could not allow my mum to go through that for the rest of her life. I needed to also be a role model for my younger siblings, yes my life took a turning point and transitioned. When I got to high school, I realised I needed to grow up, growing up was not very easy and as a girl child we went through a lot but we overcame and I'm grateful that these experiences have molded me into the role model my younger siblings can look up to.
Balancing work time and rest time is a struggle for many Creatives. Please share a
few tips on how you try to balance work time, rest time and family time?
I am very task-oriented, that is something I'm still struggling with. I think it has not really made me see the good side of life enough. All my friends have always reminded me that I'm too hard on myself and that I need to slow down and also just be a little bit open but make sure to deliver when its time to deliver. I also had to understand that I had to set time for my school work, set time for the girls and also for myself. I think it all boils down to organising and also understanding that this life has to be lived and if you engross yourself too much in work, you might lose out on some valuable moments. At the end of the day, you cannot live life on your own, you have to make time for yourself and for your loved ones and we need that as creatives. We need to be able to breathe because we are always looking forward to the next task so we are not sleeping, and we are not relaxing. It leads to anxiety for me personally so at the end of the day I had to revisit my task and reorganize and it has been helpful.
What does success mean to you?
I think for me success is just being able to do what I love and living through that every single day. I don't have to be rich but of course the numbers matter because at the end of the day you need to buy the groceries, you need to pay your bills. Once I'm able to live within that and I don't have to think too much about the next meal, while at the same time doing something that makes me happy, something that makes others happy and impacts lives in the process, is what success is for me.
Please briefly tell us something we do not know about Fatou Muloshi.
Lately, I've been going to the gym. I've been lazy in the past and I wasn't really able to exercise and I had not been paying attention to my health, I didn't watch what I ate, I ate anything, I did anything but lately I'm falling in love with the gym and I realise that I've found happiness in the gym. I have fallen in love with fitness and I'm very much loving it.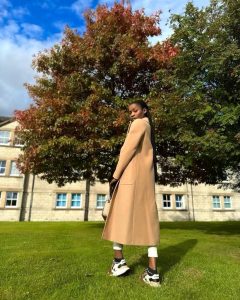 Let's go a little poetic: If poetry is a rainbow and you have a choice of one color in that
pallette, what would that be and why?
I'll take indigo, I feel it represents wisdom and intuition. It is not too obvious, it holds itself so high, so humbly represented in its pride. That is what wisdom does, it is not too proud, it's for the noble, wise, and generous.
Massive Love Fatou!
The ICONIC Team