Beauty inside out. A big heART. An amazing mind and a perfect reflection of brilliance. These are some of the phrases that we think only attempt to describe the ICON, Nia Miranda. We enjoyed every bit of our conversations with her, especially as she shared her story in all beauty and authenticity. We love how our vision at Hello ICON Magazine aligns well with hers. More like an identical dream of purpose and impact. Nia is that bright light that illuminates a dark room and we are happy to share many glimpses of her awe-inspiring story with you.
Join us on this special annual ISSUE- As Nia shares a truckload of inspiration on her journey as a versatile creative.
Enjoy and Stay Inspired:
With you, we fell in love with not just the Art but also, the Artist. How your passion is so visible in your works as an actress, a film maker and a community leader. How you promote a world of 'dream chasers, purpose pushers and fear fighters.' And how these are in perfect alignment with our watchword to be a place- 'Where Art Meets Purpose.' Even beyond just creativity, you inspire. Can you please share some highlights of how you began your versatile creative journey?
First of all, thank you for doing great research because these questions were very specific. I started my creative journey as a little girl. I would say on record I started singing at three years old. I was at my first play at 3, I just always connected to art. I am an expressive person and art gives me an opportunity to Express all my emotions to feelings but also all the imagination that I had. I always had a large imagination. I see things greater than what my circumstances or my surroundings are and I was able to live out that imagination. I started singing and acting in plays, I took piano lessons, and my grandmother and I just never lost sight of that need to be an artist. I had a singing group growing up named Harmony and it was with my best friends. We had a record deal for a moment, but the record deal didn't go as planned and it hurt us so much that we 'kinda' stopped singing for a very long time. It was hard, I mean even like 10 or 15 years later we're still working through that experience because as an artist you know we get sensitive about our work and I 'kinda' vowed to myself that I will never give my art baby (my artist) over to anyone to have power or control over it. I'll always protect it and I'll always follow my heart and my dreams and so that's 'kinda' how the journey started and it became relentless because I was hurt and I knew that I was never going to stop no matter what.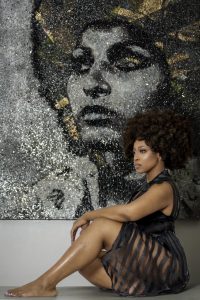 Please share your first time experience as a filmmaker.
I would say I was a filmmaker before I knew it. I was always about capturing memories and capturing moments because you never know when someone may leave you or you never know when you will need to go back to a moment just to feel present. So I was always big on that and I would start taking videos of food and stuff. I'm a foodie I love to eat. And I would take videos of food that I would cook, edit it up to cool things or I would get on youtube and do videos and try to edit but when I really realized that I was a filmmaker, was when I came out to LA and I studied at Richard Lawson Studios. I took this programme called PDP, it is the Professional Development Programme and in this programme, they put a camera in your hand, they give us some exercises to create films around and once you're done with the programme you have like 10 short films that you've created in a 16-week period of time. The programme was so intensive that it allowed me to see just how creative I could be, just how much my point of view could really come across and also change the world if I was pure-hearted with my intentions of the work that I was creating. I realised that filmmaking is one of the most powerful things in terms of change because a lot of us are influenced by what we see in film.
You also describe yourself as an ARTivist, please share some more glimpses of your works in this regard.
In terms of me being an artivist, I'm going to circle back to the name with you too but now let's talk about an artivist. Like I said, filmmaking is a huge catalyst for change right. Except for what we see, you can feel that sometimes in a conversation we're too guarded or protective. We all have art for a purpose, it has to be for a reason, it has to change something in the atmosphere and so I kind of want to take on projects that I believe in and am passionate about so that I can have deeper conversations. I can step away from being just an actor and have conversations with the people in the community about these issues. These issues can range from domestic violence to gender identity crises. Art is beautiful but it's about having the conversation afterward so we can become more united and so that we can have a better understanding of one another. That is why I feel like in order for me to be an artist, I also have to be an activist because this art has to change something in this world.
We are grateful to have you on board this special ISSUE with the theme- The Art of Christmas. Do you celebrate Christmas? What's your most memorable moment yet, in this holiday season?
I do celebrate Christmas. It has always been like a family tradition. What I celebrate is family and togetherness, so when I get a chance to be around family it gives me rejuvenation. It fills my cup. it gives me peace and so Christmas for me aside from Jesus's birthday because we want to celebrate Jesus's birthday, it's about family and togetherness for me. One of my greatest Christmas memories is this one time when my family and Il went to my uncle's house, my uncle Corckey, we all had a big slumber party and we were about maybe 20 of us. I was young and we stayed up all night, we made so much noise that I thought to myself, "I don't think they knew what they got themselves into when they had all of us together" but it just felt good. Everything in the world just felt okay because the people I love the most and the people I felt loved me the most were all together and that probably was one of my greatest Christmas memories.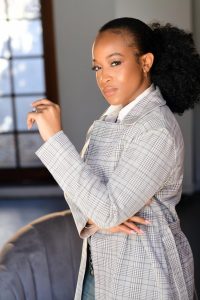 Please share any of your favourite highlights playing the role, Candice in the Christmas movie- 'A Verry Merry Hood Christmas.'
So first "A very merry hood Christmas" was my very first Christmas movie and I always wanted to be in Christmas film because I love love them. It's like singing for Christmas, you always want to listen to music, look at good films, eat cookies, take hot chocolate. It's an entire experience, so having a Christmas film is just like a dream of mine and in this one specifically, I had such a good time on set. We filmed a lot of hours but then the people whom I was filming with were like family which made it all worth it. I had a few things that stood out to me while filming this film, one thing was when all the family got together and we all danced together. We danced a lot and were able to have a good time together. It wasn't about the scenes or the lines, it was just about having a good time with each other and that was one of my favorite scenes, singing, and dancing. Another favorite scene of mine was the one with the actor who played my husband in the film, Thomas Hill Harris. He and I had a scene where as a mother in this scene, I wanted to protect my daughter in a very specific way and he was really trying to help encourage me to see things from a different point of view and I wasn't budging on my point of view. It was a really great scene, the intensity was there, the chemistry between both our characters was there, and it wasn't about who was right or who was wrong it was about two people who loved this little girl and wanted the best for her although they were seeing it from different sides. It was the act of pure love and even if it wasn't intense it was interesting to me. I love that scene because both of them made strong points and ultimately if you see the film you see what the conclusion was, it was really a strong and powerful scene.
How was growing up like?
My childhood was amazing, I wish that the kids of these days could have a childhood as great as mine because right now I feel like they have a lot of distractions with social media and not playing outside. My childhood was creative, I was the child that wanted to invent everything, I was the child that built tent with sheets around the whole house and cushions from the pillows. I would make up my own scenes I was a singer so I would get my little tape recorder and I will record my own little demo and then go down the yellow pages and try to call Studios and see if they would accept my demo tape. They would be like how old are you and I would say I'm 7 and they would ask where are your parents? I was creative and my mother and entire family supported my creativity and I had really great friends who are still my friends till today, 20 plus years of friendships. I grew up feeling like anything was possible and I fought really hard growing up to keep that mindset even as an adult because you know we have responsibilities, we have films, we have so many things that sometimes make you doubt that anything is possible. My great childhood helped me keep that mindset, the only other thing that is very interesting about my childhood is that I'm Nigerian, yes I am a Naija girl. I grew up in Detroit Michigan and my father would be in Nigeria out of state, I will visit him all the time during Summers. I lived with him for a few years and I had an interesting time honoring fully who I was, you know like in Detroit it was not a huge Nigerian population so I was more around black American culture which is still extremely rich and creative and brilliant. I want my kids to experience the fullness of honoring who they are being in America and having Nigerian roots and being able to connect with that. I just wish that when I was younger, I had been able to go to Nigeria as a kid and connected with it a little more.
My father is Igbo, when you talked about my name, Miranda is my middle name. My name is Nia Miranda. I'm married, so listen this is the first interview I've really talked about this, I'm in the process of contemplating changing my name. I'm thinking about changing my artist name and taking on again and embracing again my father's last name which is Nwosuocha. It's an Igbo name, yes it is. Yes! I'm the igbo girl. I've been tutoring and learning igbo and it's been challenging but it's been so rewarding and so I'm really considering changing my name. People ask you all the time what makes you unique, so I guess you could look at my IG page and possibly see it or I could write down that I have good personality but something that makes me unique is my name and that's my full name. I think that it has power behind it and when you see Nia Miranda it's nice and it makes you think about Shakespeare and make you think about someone of Hispanic descent. I want people to see my name and know whom I represent, know where I'm from. I know that I have thousands of thousands of ancestors who are rooting for me on so I'm considering changing my name so yeah.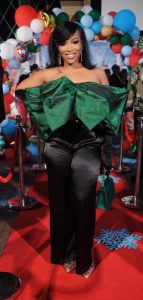 From Co-founding 'Bringing Love Back,' a platform with a powerful mission using Art as a tool for good, to being a Bright Light especially to the Black community. What would you consider most fulfilling right now in your journey as a creative?
The most fulfilling thing in my journey as a creative is that I have the power to create. Sometimes as an artist, especially as actors when you're not booked, you are not doing a specific role on a specific series or in a specific film sometimes you can be confused to think that you're not an actor, that you're not an artist, that you're not able to create, etc. For me what's most fulfilling, is knowing that I don't need anyone to book me for me to create, I can create my own, I can do it when I feel it. My artistry and meaning are not predicated by anyone else. I have ownership of my art and that not only fulfils me it also empowers me.
Do you feel creatives in developed countries are at an advantage than those in developing countries?
So I feel that opportunity and access does make a difference in terms of developed countries and underdeveloped countries but what I also know is that when it comes to creating films specifically you can do that with a cell phone. It's okay to have the big huge red cameras and the black magic and the drones and all that great stuff. It's cool to have that but you can create the film or the idea that you have with something as simple as a phone and I believe that a lot of people have phones even in underdeveloped countries. I believe that if they were empowered to know that they can do the best they can with what they have, got then I think it would balance out the personal fulfilment. However, a huge dream of mine is to be able to work in Nigerian films, I want to work in Nollywood so bad and because I see it up and coming and how they have been dedicated to creating. The quality of their films Productions has been so much greater just because they started and they didn't stop. I believe that there's an advantage in some underrepresented countries, that if you have one person who has the idea, that means you have access to tons of locations which probably won't be as expensive as in America. The startup is really low so you just have to have that inspiration that you can really do it. I see there's an advantage and disadvantage in that
Your name Nia has a beautiful meaning- 'purpose.' You have also shared how this comes with responsibility. As creatives, we understand the high tendencies of getting stressed out even while pursuing our passion. There are days when even depression may creep in or just that inexplicable feeling of overwhelmingness. Do you have any relatable experience to this? If so, how are you able to manage and thrive beyond phases like this? Any quick tips on 'Mental Health for Creatives.'
So yes one thing I would say is I have definitely had the human emotion of feeling I won't say doubtful but feeling anxious and impatient. I want to really say that I don't allow myself to get too depressed because I don't allow my expectations to exceed my gratitude. I would stay in the sense of gratitude all the time so I don't really let my mind get to the place of depression and because I can always find something to be grateful for. I'm here, I'm breathing, I'm talking, I'm living, I'm grateful for that, I'm speaking to you from a different country using technology that's amazing I'm grateful for that. So when you're in those spaces when you are down and you are confused and things are foggy start thinking about the things that you are grateful for. Don't stress over the things you can't control, things like this industry, being an artist and this world in general. What I would say for mental health tips is to: one, always go back to the things that you're grateful for. Two, go back to your old prayer points because 9 times out of 10 you are currently living in it and you may just have overlooked it and three connect with your purpose. That's probably really number one because when you're connected with your purpose you know that it's bigger and deeper than just you.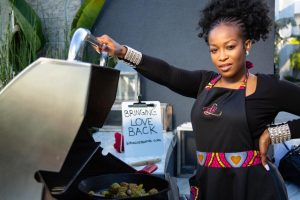 Balancing work time and rest time is a struggle for many Creatives. Please share a few tips on how you try to balance work time, rest time and family time?
That one is the biggest balance for me and the biggest challenge is balancing it all because I want to be great at everything. I want to be the greatest employee, I want to be the greatest actor, the greatest wife, and the greatest daughter, and when I'm striving to be the greatest at all these things balancing it all becomes challenging. What I do is this; when I'm wearing any of that title, I make sure I'm present in that moment. So if I'm working, I'm present on what I'm working on so I can give it all that I have at that particular time. When I'm with my husband, I'm present so that means work is going to have to wait, social media is going to have to wait, I have to be present right there with him. It's the same thing when I get any chance to travel back and be with my family, I just know that family is bigger than just career, and work and career are not allowed to have all of my time and energy. I have so many people believing in me and supporting me and it's my responsibility to give that same amount of love back.
What does success mean to you?
You know what's interesting is I already feel successful. The fact that I get to do what I love, and I get to live in my purpose is a success. The fact that I can make my family proud, you guys, my mother my father, my grandmother, are proud of me and not because I've done everything you all wanted me to do but because I've done what I know I was put on this earth to do. Because of that, I'm successful, I have put my mark in this world, I have done things that are historic that will go down in history, and the people after me and generations to come will be able to see what I was able to accomplish in this world. I'm really still looking forward to all that's going to come because I know I have so much more to instill, and so many more gift inside of me that I have to give but the fact that I'm doing them and I know what to come is success.
You describe yourself as the perfect combination of 'sweet and spicy' and we cannot agree less. A Detroit with Igbo Nigerian roots is another description of you we connect to. We love how you showcase your identity with some contagious glee. Please briefly tell us something we probably do not know about Nia Miranda.
Well that's what I probably told you, that Nia Miranda is probably going to turn to Nia Nwosucha. And that for me is huge because I've already kind of made a name for Nia Miranda and I've done so much great work under that name but when I get the Emmy, the Oscar, the Grammy, the Tony, it's going to be as Nia Nwosucha. That's something that people don't know that y'all heard it first. That's what's coming.
Let's go a little poetic: If poetry is a rainbow and you have a choice of one color in that pallette, what would that be and why?
That colour would be violet. I say violet because in order for you to get violet you have to mix red and blue together. And red sometimes is passion. You know it's love, it's sacrifice, it's anger. Red is such a powerful colour that when you mix that blue, the cool, the calm, the peaceful, it creates a colour of its own. I feel like violet honors both red and blue and respects them for what they are and shows that something so fiery and something so calm can come together and make something so beautiful.
Massive Love Nia!
The ICONIC Team