Fulfilment is one of the most priceless goals of many in any industry. That deep sense of joy and peace. The accomplishment of purpose in between living a life of impact. These and more are what the life of Tessa reflects in big, bold and bright colors. Having thrived as a multiple award winning Olympian, she continues to set new records in her versatility while maintaining a happy family life.
Join us on this special annual ISSUE- As Tessa shares her awe-inspiring story and a truckload of inspiration on her journey in its uniqueness.
Enjoy and Stay Inspired: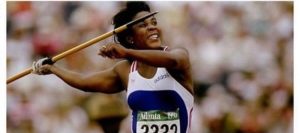 You're a perfect reflection of who an ICON is in the creative industry and beyond. How you effortlessly combine a variety of dreams and thrive time and again. How you combine all these wins with balancing family and more is what we like to describe as a fulfilling life. Can you please share some highlights of how you began your creative journey and what helped you thrive in a variety of fields, including sports, modelling and family life?
You know what, it's a bit hectic, as you know but I think one of the things that I've gained experience from is …. for 26 years and sometimes you have to get up and do when you don't want to. You have to train even when you don't wanna get up and train. So it's like at all times you have to pick to get out and do things and also one of the things is that I love challenges so you know I always try and push the goal post out a little bit more, and also the good thing is that I do have a husband who's supportive and also my family always has been supportive of me. But my husband used to be in sport himself …. and he was the chairman….for like 12 years so I think having that combination of him understanding that I would have to get up and go sometimes… would get called go to speeches, go to the schools, to see the children and talk all these I've put in my head and create a balance. And also try and have a diary as well and which I do have a manager who looks after that for me which is something good. If I never had that manager, everything would be upside down. You know you just forget somethings and sometimes she'd call me back and say "Tessa remember you've got to do this you've got to do that" but it's not easy doing that but I think when you get up in the morning or the day before planning is always important. It's always important that you plan a day before, a couple of days before how are you going to see your day the next day. Put things in the right perspective and that way it becomes a little bit more easier
What does Art mean to you?
Oh art. It means a lot because I think you know it gives you a station point. It gives you something to aim at you know like having confidence being an artist. It's just there're so many different parts that you can take and it just means it's a fulfilling situation and it can be quite challenging whatever art or whatever life whatever part you're taking through that art.
If we're thinking about art on the whole let's look at the art in Christmas time, it means an awful lot to me. You know because it's a time that is very special, it is like art in a certain way but like a painting of art you have this special portrait that you create and you think oh that's coming up and am I lik that, I love that what can I do with that. I think there are so many different forms of art that one can form ….but if you look at the Christmas form of art it, means so much because there are so many fabulous things that one can do each time out to spend that special moment with your family friends you know special occasions where you look at special things to do and being present. A lot of people don't, probably how can I say this look at like Christmas for gifts and that but I do because at special times I say to my family or friends or twin thank you you know it's wonderful. Art is a lot means a lot.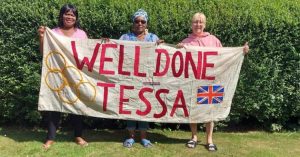 We are grateful to have you onboard this special ISSUE with the theme- The Art of Christmas. Do you celebrate Christmas? What's your most memorable moment yet, in this holiday season?
I'd say I'm glad we touched on Christmas like I did before because Christmas time for me is a very special time. It always has been from the time I was young because I was brought up in Jamaica until I was six years old and so then came and followed it all the same and so Christmas means a lot to me it's a special time I do go to church. I haven't been in church for a little while because COVID was a little bit…you couldn't have had a lot of people in there but Christmas is a very special time for me because again It's when you have special people around you it's a time to celebrate the birth of you know Christ what you learned in church…there's so much special ….in time where you can have your special people in your house like I had in one year I had 27 of my family in my house at one Christmas year. It's a time of special food as well although it's not special food it's just eating lots and lots and lots of food. So Christmas means a lot to me and there's special moments too that's you know I've had for Christmas.
What would you consider most fulfilling about being a multiple award winning Olympian?
Ahmm.. just before I learned that I couldn't have any children so I went through a series of IVF and things like that and also it didn't work for me so I decided to adopt and have to explain to my mum. When I met my husband, I spoke to him about it so we adopted twins a boy and a girl and that moment …their first Christmas they were 3 months old when I adopted them and that moment of them coming home was just most specially Christmas all my family wanted to come down and see them. Oh it's just amazing. I just wanted to add that special moment with you but to answer your question I think it is to be able to meet different people, see different people well what sport does is one fantastic thing is that it helps you to communicate …that you get to meet, you get to travel and also the thing is I wanted to do that when I was a youngster. I wanted to travel and see the world because my family was working… train … and things like that so you know I wanted to see the wonders out there so being an award Olympian is very fulfilling because people do get attracted to you and stuff and I don't mean like physical… well that happens from my hubby too but what it needs is that it can help you go through that pathway of meeting and doing so many different things you'd probably never do. I've just bee honoured to have won 3 awards because I had now become an ambassador of the Variety… of Britain which they were the first charity ever to help me in my career and help win the first gold medal in the 84 Olympics and this…2000 a year because I had nothing really for that…I just won the Chamber of commerce Black Chamber of commerce award which I thought was lovely and also to have… award which is from Jamaica…holds a lot maybe because motherland is Jamaican to me so having won awards, it feels amazing but being an Olympian and getting an award at this age I am now 30years since I won it means a lot. Another thing that has been fulfilling to me is Black History Month just happened I don't know if probably I wasn't an Olympian I wouldn't have been called on to do some work presentation to inspire people to talk to girls talks to schools and everything like that so I do think that there has been some fantastic fulfilling moment multiple award-winning moments and to be called a legend and people say you're an icon it is a lovely feeling because I worked very hard to be at the stage and it's lovely to see people fulfilling.
Do you feel creatives in developed countries are at advantage than those in developing countries?
I do think that creatived in developed countries are at an advantage because there are lots of Talent in underdeveloped countries, lots of sporting talents, doctors, nurses, iand all these other people and I think that we should aspire just a little bit more. I think that if the creativity from there can be brought out a little bit more or can be assisted or be helped to be brought out to the bigger world, to give them that ladder or put their foot on the ladder to greater things is very important I think it's important to the creative themselves and I'm not just talking especially about women because we talk this in international times. I think that it's important to develop other countries as well to make sure that the world knows what you're all doing, how people are aspiring. That's how you create other items, other opportunities for people who are disadvantaged, so I think yes.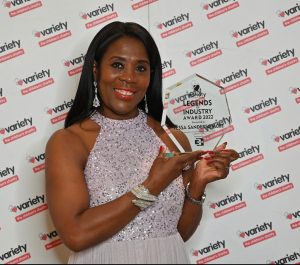 Balancing work time and rest time is a struggle for many Creatives. Please share a few tips on how you try to balance work time, rest time and family time?
Well, I think the thing is having two young kids can be quite demanding my twins are not 10 years old and then Primary School what I do in the mornings knowing that they come home at lunch time I think the night before what would you like for lunch darling and then say something like burgers and chips and all that and I'll put a stop on that I'm be like no no no you're not going to have burgers and chips. You're going to have something else but you know and try to keep everything as healthy as possible as well but I balance my time by… having a good husband but also I spaced since out I put things in the right perspective as much as I can and sometimes I do go crazy but preparation is a must if you don't prepare them things go crazy it's all over the place. What I try and do if I've got to do something which is really really important that I make sure I know what it's about, if I've got to go and do a speech which is sometimes two or three times a month to go on stage and talk to a lot of people, I make sure I get all the agenda beforehand so I can absolutely study and see what it's all about so I can prepare myself. Preparation is a must but it can be very time-consuming but one thing is the biggest thing is I make sure that if it doesn't fit in with seeing my children enough or working with their curricula and all these things you know what, I take a second look at it. So it's important to make sure that my family I will put them first. Whatever happens, I always put my family first and my twins because they are at the age where growing up is important knowing the right thing is important when they do a project about… which I'm very on about and they show off a little bit about it I make sure that I sit down with them and talk to them about it.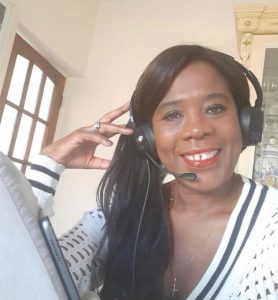 What does success mean to you?
It means a lot. I think it's important to be very successful if you are not achieving 100% of what you want to achieve then I think the… of that is make sure that you put foot forward you pick up the challenge you have a goal. Never sit back and think is going to come and fall down on your lap because it doesn't you have to work hard for it. I know how hard I've had to work over the 26 years I've spent in track and field and over 30 years now since I won my Olympic gold medal. It means an awful lot because maybe it's not just me that cheering all of my back I know when I go up on there they call on black young people who are going to say "Tessa this is what you did how did you do it?" and I feel really chuffed that I can talk about that I can talk about the experiences at all levels from racism to family life to achieving. I can talk about rivalry; how you get that too when it comes in life and not just in sports in absolutely everything in jobs. But to also be at the top of that, you're the best in the country in the world and you've done the best that you can do. It's amazing. It's a great feeling. I love being successful but if you don't achieve 100% like saying you set your challenges out to achieve it doesn't mean that you're a failure either. It just means that maybe it wasn't right for you then or maybe just a little bit more learning to do, maybe the challenges was a little bit high for you at the stage at that time so have a look at yourself and try again because next time you might be successful and never fear. Success is lovely and it's a great feeling.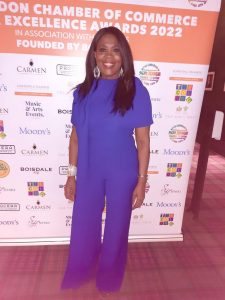 Please briefly tell us something we do not know about Tessa Sanderson.
That's a lovely one. Atually, I've been married for 12 years. I got married in 2010 to Densign White and funny thing is we got married in Saint Paul's Cathedral and maybe a lot of people don't know that Saint Paul's Cathedral where I got my MB my OB and my CB which I had from the queen…so we decided to use those and you know go to Saint Paul's not many sportsmen which I think if any… and so you know a lot of people don't know that and what else can I tell you about me I'm a happy-go-lucky person. I'm so pleased to have been born to wonderful parents and what else can I tell you that you don't know? They do know that I tried modelling little bit and that was okay. It's not something that I would… because I tend to do the catwalk and stuff probably but I'm not cut out to do but. There's a whole of things there is to me when I think people don't know. This is what I think is probably important success is good and people do know and come into your world. This year maybe a lot of people don't know I was mayor of Birmingham 2022 Common games and what that meant was that I was elected to be the Mayor of my common village. So what that entails is that I had to welcome the countries that came into my village and there was a lot of them from all different Nations and countries which was great Prince Edward. I had welcomed him the other day and just show him around my village so that was really great and a lot of people don't know that I went and collected the baton from His Royal Highness Prince William but I was in Dubai early this year so what do we not know about me? I suppose there's a lot more it will be thinking about I never tried to change my makeup I'm pretty boring so I stick to the same makeup and all that and yeah that's it I never use soap on my face.
Massive Love Tessa!
The ICONIC Team