Art is beautiful! And oftentimes we see beautiful heARTs that love everything about Art even from their childhood days. But have you ever seen a person whose connection with Art began even as a newborn? Well, we have one here- Virginia Zanetti, an ICONIC artist who was already moved by the unlimited power of Art even as a baby.
Join us on this special annual ISSUE- As Virginia shares more on this awe-inspiring story and a truckload of inspiration on her journey as a versatile creative.
Enjoy and Stay Inspired
Your works as an artist, curator, and researcher are powerful, deep, and enlightening. Can you please share some highlights on how you began your creative journey as an artist?
I have loved art since I was a newborn, my father tells me that when I cried he used to take me to the living room where there were many paintings and I would calm down by looking at them at the rhythm of Beethoven or The Doors.
Since I was a child I used artistic expression in all its forms: drawing, painting, dancing, acting, and singing to transform my state of crisis into something else to communicate with others. Then I went to scientific high school pushed by my parents, but as soon as it was finished I enrolled in painting at the Academy of Fine Arts, after which I integrated the various artistic languages to do interdisciplinary research. Curating is a consequence of my love for art and reflection on art making. Taking care of other artists and their work is a fundamental part of my life, like teaching others what I learn in this journey.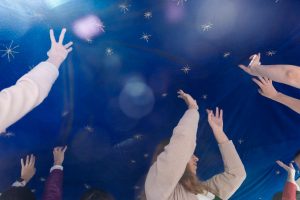 Can you remember the first artwork you made and what inspired it?
The first work I exhibited in a solo exhibition was a self-portrait in a very large oil painting.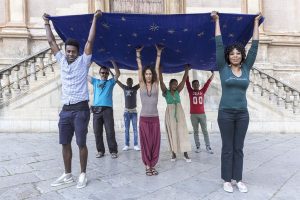 What does Art mean to you?
It is my best way to be in the world and communicate with the world. Art is for me a function of transformation, and reversal of states and conditions. In my research; the Other, as opposed to the Self, constitutes the starting point to explore ideas of separation and disharmony with the purpose of allowing the recognition of our link with the community and the environment. Actions and performances are a fundamental part of my practice, both as an aesthetic and ecstatic experience, as generating forces of pictorial, video, photographic, sculptural, textile or environmental works. The performances are constructed as rituals or psychologic acts in order to rediscover a new social conscience. With my practice I try to find the essence of a community and the human's 'essential', adopting the critical potential of crisis as a stimulus for a continuous rethinking of reality. Among the motivations behind the processes of the genesis of my works, there is the desire to understand the functioning of life and the relationships that support it, starting from an idea of non-duality between the phenomena and the force that sustains them. My practice is based on collective participatory actions as a tool which tries to capture some visions by the collective unconscious, taking advantage of revealing coincidences, random circumstances manifesting some deep messages. In my works I try to cancel any constraint linked to the categories: material and immaterial forms merge when the performative act becomes an object and the viewer becomes an artist through a collective mode of development. Every action seeks to bring out a renewed sense of existence and an affective knowledge. I try to identify and break up the boundary between the artwork and the spectator, through relational dynamics or through the shared codes of a community, aiming at making the artwork an integral part of the environment where it is conceived.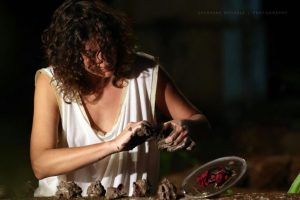 You recently shared an awe inspiring work inspired by your grandfather, Luigi Zanetti. A photographic image that 'summarizes that gesture captures a human being alone who falls not on the ground, but from the ground.' Can you share more on the highlights and inspiration behind this masterpiece?
The image of a person falling through the air comes from a photograph that I remember of my grandfather Luigi Zanetti, silver medal-winning gymnast at the London Olympics in 1948, doing a somersault.
I had already used the trick of changing the viewpoint in my project "The Pillars of the Earth" (2015-2019). In that work the people were doing a handstand, but, seen the other way up, it looked like they were holding up or hanging from the earth. For this new work created in July 2021, upside down, the image gives the illusion of a person falling from the earth and letting herself go towards the unknown. The period of history we're living in starkly underlines the vulnerability of the human condition. As I hypothesize that life in all its forms develops through cyclical phases of origin, growth, degeneration, death and rebirth, this research investigates our need to disintegrate to then rebuild ourselves.
To make the photographic work and the videos that form the trilogy "I just want to know who I am", I involved an athlete from the Società di Ginnastica Etruria 1897 in Prato (the same club that my grandfather belonged to), reviving the connection with my personal history and the place where I live. The whole trampolining team got organized so they could do their sport outside. Athlete Chiara Cecchi worked with me for a long time to create a different posture from the canonical landing positions used by gymnasts. Upon landing after a somersault, she made her body look relaxed, as if her arms, hands and feet were let go.
The photographic image capturing that gesture portrays a single human being not falling onto the earth, but from it. The work originates from the loneliness and powerlessness felt by me – like everybody else – during the lockdown. The suddenly empty space I found myself in enabled me to feel our fragility and impermanence on one hand, and the sublime that brings about a drastic but necessary reset, and a sense of extreme freedom on the other.
The two videos show athlete Chiara Cecchi doing a series of somersaults and falls. One video is a totally realistic shot of the action: the dizziness of an immense jump, the strength, fluidity and control of the athlete's body, the yearning for freedom during the brief instant of flight as the human being seeks to erase the force of gravity that inevitably ties her down to the earth. In the other video I turn the photograph upside down, focusing on the fall, slowing it down and fading it out. The powerful body becomes a delicate figure that keeps on falling from the earth, finally free to regenerate over and over and over again.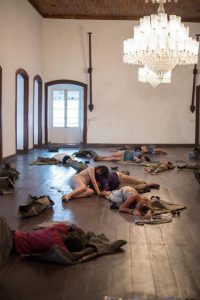 We are grateful to have you on board this special ISSUE with the theme- The Art of Christmas. Do you celebrate Christmas? What's your most memorable moment yet, in this holiday season?
Christmas time is always very sensitive for people like me who have had an extended family scattered around the world. I usually stay close to my mother with whom I grew up because she cares about Christmas.
A memorable Christmas for me was the one I spent in a warm Goa, bathing in the Ocean, in an interesting contrast between Christmas decorations and flower offerings to Hindu deities in an explosive tropical nature. It was in 2016 during my artistic residency at HH Art Spaces, set by Romain Loustau, Madhavi Gore and Nikhil Chopra, a space based in North Goa, which facilitated and curated residencies and workshops with a focus on contemporary live art and performance. I worked on my workshop and performance "Fourth study for the ecstasy in the landscape", for Lucid Sleep curated by Kapur and Dubey, executed by HH Art Spaces Foundation, for Serendipity Arts Festival at the Adil Shah Palace.
It was a work thought for the space of the Palace, a space where every single presence was led to experience the global contact with what was around. An action where everyone met the surface of the other in listening to each other, abandoning to the unknown, experiencing the hassle of closeness or union in the clash, putting feet on the matter until slip inside the soul. The collective action was therefore conceived as a spontaneous development that cannot be controlled in its duration and in its form, opening up itself to multiple meanings.
In this work the audience can get to trace back the evolutionary movement of the earth with their own body until they feel its consonance with the dynamics of human relationships, with the primordial stages of life that are already stored in the memory of the body.
Through a transfer, understood as physical and emotional transferring, I have put in place the conflict between the motion of expansion and that of dissolution, testing both the aesthetic and ecstatic dimension: the topic on which I worked during the preparation workshop of this performance. It was a deep experience for participants and me, considering our different cultures.
During the residence I also worked in a performance called "Keeping love" in which I make an attempt to maintain love through a symbolism linked to Love and Psyche, a fable written by Apuleius in the Metamorphosis, an eternal allegory of struggle between instinct and rationality. Slow movements that dilated over time create a kind of hypnotic and repetitive action in which I try to protect love, stifling however perfume and beauty. The desire to make it immortal, mutating it, forcing it and almost destroying it, produces an action of strong emotional charge. 21 red roses, donated by my ex boyfriend with the desire to mend a love relationship abruptly interrupted, were on the table. I took them slowly one by one, removing the leaves, impurities and stem, keeping only the red bud and gradually I tried to wrap it with clay to protect it. A gesture of approach to a utopia and a perfection that is reached through the impossibility of being reached. Small sculptures, which only vaguely remember the bud evoking their shape, drying up, take on an aesthetic value, trace and simulacra of the energy resulting from this effort to maintain love.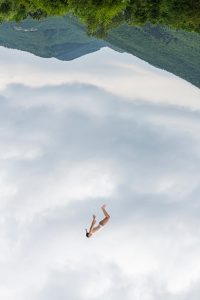 You have continued to thrive, win awards and gain top recognition in the creative industry and
beyond. What would you consider most fulfilling about your creative journey as a creative right now?
The life of an artist and life in general requires us to continuously improve ourselves and there is never an end point. I would certainly like to continue to expand the human connections I am creating through my work and to have my work in biennials and major international museums.
What's your dream life as an Artist?
Vertigo is a feeling that moves a large part of my life and my research: with respect to the infinity of the universe and the constant possibility of relating with it. The interest in the origins, and the subsequent search for an ideal and perhaps a utopian harmony, led me to generate a particular imagination about this attempt to go beyond the limit between individual life and its environment. I am going forward with that harmony. I would like to have time to create and to research economic freedom and freedom of thought according to my nature and with Nature.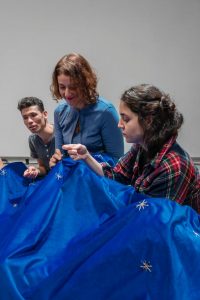 Do you feel creatives in developed countries are at an advantage than those in developing countries?
Artists who live in developed countries such as Northern Europe and North America have certainly an advantage because they have the support of the State to do the art as a profession because they are recognized as professionals and as a source of pride and value for the Nation and they are also supported to go abroad.
Artists from developing countries clearly have a harder time, especially those from more disadvantaged social classes.
We can also consider Italy a developing country in the contemporary art field, so I am more disadvantaged on those aspects because the artist's profession is not recognized and there are only few support tools for us artists who want to work abroad, so we are still under-represented abroad as artists.
Balancing work time and rest time is a struggle for many Creatives. Please share a few tips on how you try to balance work time, rest time and family time?
Creative time is seamless, when I am on my own it is really difficult to balance, the only things that give me a rhythm are my Buddhist practice and the walk which I try to do for at least an hour a day. I then try to devote myself to my parents with balance, especially in this last period when they have not been very well, but even here there is no separation between life and work, so much so that my latest work is a four-handed effort with my father. It is called "Open Like a Flower, Forgotten Memory" and it was the first step of my new research project and work dedicated to "forgotten memory" in collaboration with the SmArt Lab Plan of the Suor Orsola Benincasa University, the 'embodied education' research group directed by Maria D'Ambrosio, the ASL Napoli 1 Centro – Department of Mental Health with the Operational Unit of Child Psychiatry District 24, and Traffic Gallery, Bergamo. The project is a collective attempt to tap into ancestral memories investigating our mind and body memory and its functioning through a multidisciplinary approach and the interweaving of scientific and spiritual practices. The laboratory intended to investigate the relationship between parents and children starting from the body, activating epiphanic moments and forgotten memories through the exercise of Feldenkrais practice, mediated by me and my father, Franco Zanetti, a teacher specialized in the discipline. The body thus becomes a device of interaction, an activator of physical, childhood and intimate memories, giving value to those often little explored and conflicting alliances that bind parents and children.
What does success mean to you?
To be able to create very easily new visions and relationships.
Please briefly tell us something we do not know about Virginia Zanetti.
I like to overcome every limit in my work, in extreme sports and also in my life.
Let's go a little poetic: If poetry is a rainbow and you have a choice of one color in that palette, what would that be and why?
I really love ultramarine blue, in fact I use this color for my work Abysses, a collective action that involved the community of migrants hosted in various reception centers in the city of Palermo, several students of the Fine Arts Academy, and citizens, during Manifesta 12. The project, investigating the concept of abyss and immense depth as a metaphor of the impenetrability of human destiny, wants to lead us to a reflection on the dramatic issue of migrants through a creative choral process on a single piece of ultramarine blue fabric, where stars were embroidered with gold thread. This final collective artwork was raised by me and all the participants in several squares of the city of Palermo, becoming a starry sky, supported by human columns. Abysses also involved residents and migrants living in Zurich, in the attempt to create a collective work, by means of embroidery practice on an ultramarine blue fabric. This color symbolizes the sea, the ecosystem from which living beings originate, a trajectory often used by individuals to move from one place to another on our planet. After the second war, also my grandfather was a migrant, he left Padua to go to Prato. In the course of the performative action I share my personal history and I invited each participant to embroider an eight-pointed star with a precious golden thread, whose shape recalls the one painted by Giotto in the heavenly vault of the Scrovegni Chapel in Padua at the beginning of the 14th century. Embroidery is an opportunity to share and collect memories related to the sea, a practice that becomes a projection of desires and memories to compose constellations made of today's dreams. Considering the etymology of the word desire, from the Latin de (negative meaning) plus sidus (star), desire literally means "lack of stars", good omens, and by extension a feeling of lack and consequently a passionate research. This work therefore, wants to transform the fear of the unknown into a creative act of individual and collective hope. At the end of the performance the fabric becomes the subject of symbolic action: raised towards the sky, the blue of the abysses becomes the sky itself, supported by the same people who have imagined it. A sky full of new meanings in a delicate balance between space and time.
Massive Love Virginia!
The ICONIC Team