The stunners! It's beautiful how Cati and Jay carry this aura of warmth, peace and joy even as they constantly slay together.
Join us on this special annual edition as Cati and Jay share a truckload of inspiration filled with love, beauty and brilliance.
Here's To An Annual Celebration of Inspiring Couples in The Creative Industry
Being a Creative is a lot in a world full of 'noise.' To find someone who can listen, relate with your words, your dreams, the happy tears, and even the challenging moments is one of the best gifts to have, not just for a moment, but for a lifetime. We understand that having the right partner can make life a lot more enjoyable and fulfilling. Having someone to support your creative journey in all sincerity and love all you do and all you are is a priceless gift.
Enjoy and Stay Inspired: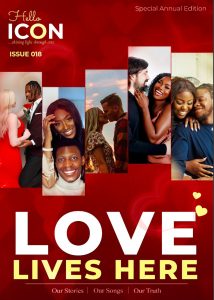 To Cati: You effortlessly reflect a unique glow, creativity, beauty and grace. Can you share some highlights of how your Fiancée has contributed to the growth of your journey as a Creative?
Cati : Thank you for that question. I went into content creating even before starting our page together. I actually work with social media myself and I have that inner passion, that fire for creating content so I have always been a creative but as I mentioned, I had this idea of creating content together even before we went into a relationship. At first, it was just Tiktoks of us dancing and making funny videos before we started a relationship. I just have had this urge to create content with him and then as our relationship evolved, we started making relationship content, more videos that talked about love, that reflected the type of relationship that we have and it's just been an amazing journey. Having a partner that is on the same page as you, where you can dance off ideas, propose some concepts, even our date nights, we turn them into Vlogs, so we're always creating content and our life has been filled with so many great opportunities to be creative and to share that with the world and it's very helpful when he's there for me.
Hello ICON: That's so sweet. The next question goes to Jay. You thrive beautifully as a content creator and you are no doubt an inspiration to many out there. What would you consider most fulfilling about having the right partner?
Jay : Having Cati in my life made me realize that I can achieve my goals, personal or goals together faster than before. That's the most beautiful thing for me because when you have the right partner and she supports you in everything you want to do, it makes things easier. That would be the most fulfilling thing for me about having the right partner.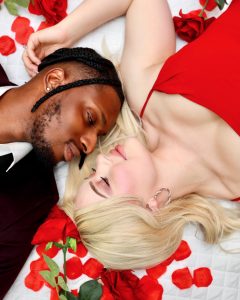 Hello ICON: Aww that's nice. Having a supportive partner is like everyone's dream- How did you both meet? Was it love at first sight?
Cati : I had just moved into my new counter building and on the very first day, I had to go down to the lobby area. Immediately I got out of the elevator, I saw Jay. He was in the lobby . I was almost paralyzed with this feeling of attraction I felt the moment I saw him, and without consciousness, I went to him. Usually, I am very shy so I barely make the first move but the fact that I had this urge to go talk to him, it was like, out of character. I invented a story and got him to help me with something. We had an instant chemistry. So it was love at first sight for me because when I first saw him, I had this feeling of being complete.
Jay : It was the same for me. I didn't believe in love at first sight until I met Cati.
Hello ICON: The next question goes to Cati. "I am forever grateful for our souls choosing each other in this lifetime. I will forever be yours, and my love for you deepens every single day." These are your words for your Fiancée and they give a beautiful glimpse of how you see him. What was the first attraction to him for you? And what do you think has kept the love and connection strong?
Cati: It's difficult to know a person from just how they look. It's all just physical. I did see his beautiful black skin and his nice braids. He was tall and masculine and I was really attracted to that but then as the relationship grew , I got to know his personality. He has a big heart. He works so hard and gives so much to me. He helps me be the better version of myself but obviously, attraction is also important in a relationship. It keeps it going when you are attracted to your partner.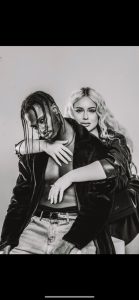 Hello ICON: I love what you both have. I love the bond. The next question goes to Jay. You and Cati are so beautiful together. And perfectly reflect the beauty of diversity which is one of our core values at Hello ICON Magazine. What was that one thing that made you know she was 'the one'?
Jay : Her physical look definitely got me but the thing that made me realize she was the one for me is how supportive she is and how big of a heart she's got. She's so generous , she gives her all in the relationship. I feel invincible with her by me.
Hello ICON : That's beautiful. Next question is for you both. Social media somewhat makes the picture of love, marriage and relationships quite blurry sometimes. One moment we see love everywhere, the next moment we hear breakup stories. But these words below by X-Wam (one of our pioneer interviewees on the love series) makes the picture clearer: "Understand what you see is not the complete story, do not assume to know. Strength, power, independence, wisdom, love is just beneath the eye catching cover." Cati and Jay, can you please share some quick tips on how couples can better manage social media and its influences on their relationships?
Jay : First ,ensure you have pictures of your loved one on your social page so people know you're together but never share your relationship problems on social media. I think it's harmful for the relationship.
Cati : Also, Respecting the relationship boundaries. For example, we have our set of rules in our relationship that work for us . As content creators, there is the need for us to always be on our phones but we have important boundaries that make sure we are not on our phones at all time. We create time for us. Also, the way we interact with people on social media, we have boundaries for that. We do not send private messages to people of the opposite gender. We are very strict with our boundaries but it works for us because there's no temptation or opportunity for people tovget into our relationship and come in between.
Hello ICON: I love how much you both respect each other. The next question goes to Jay. Who was the first person you told about Cati?
Jay : That's Boy Bizzy. That's a close friend of mine I have known since I was a kid. We grew up together but got separated because my mum had to move but we're still in contact till this day. So after my first date with Cati , I called my friend the next day to tell him about her.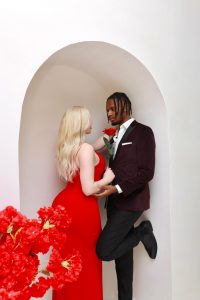 Hello ICON: To Cati, What song best describes your awe-inspiring relationship with Jay?
Cati : There's a song called 'Into Orbit' by Alex Isley. That's the song that describes our relationship because she said; 'Take me to the moon. I want to be with the stars' , I feel our love is so deep and there's the expression that says 'I love you to the moon and back' which is like the biggest amount of love that you can give to a person and it reflects on me, the length I would go to for Jay.
Hello ICON: The next question goes to you both. What is Art to you as a person?
Jay : For me, Art is the ability to share your gift with the world, to make life better. It could be singing, dancing, expressing what you love to do .
​
Cati : I will also add that Art can come from pain, a place of negativity but you're using that talent and gift to create something more positive. It's like a transformation, creating works that can be replayed and keep inspiring, like Micheal Jackson. He has passed away but his Art, his music lives on. It's creating a lasting memory in people's minds.
Hello ICON : That's beautiful. The next question is for you, Cati. As creatives, we understand the high tendencies of getting stressed out even while pursuing our passion. There are days when even depression may creep in or just that inexplicable feeling of overwhelmingness. Do you have any relatable experience to this? If so, how are you able to manage and thrive beyond phases like this? Any quick tips on 'Mental Health for Creatives.'
Cati: Stop comparing yourself . That is the root cause of the dark feelings you get as a creative because you are competing. You might be in the chapter one of your story and then you are comparing yourself to someone who is at chapter 15. When you compare yourself, you're completely ruining the value of what you created. When you free yourself from those competing tendencies, you will appreciate your work more and be happy.
Hello ICON: You are right. Next question goes to Jay. Do you feel creatives in developed countries are at an advantage than those in developing countries?
Jay: Well, not so much. I think the only advantage creatives in developed countries have is the availability of tools to help turn their ideas into digital projects such as video games, pictures and so on. In developing countries, there's a lack of technology so they have no choice but to rely on their creative sides. And they do it so well and still find a way to be happy.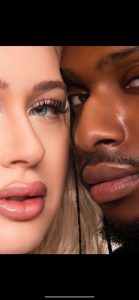 Hello ICON : Okay, the next question goes to Cati. We understand balancing work time and rest time is a struggle for many Creatives. Please share a few tips on how you try to balance work time, rest time and family time?
Cati : I will say your self care comes first. You can't give love to others when you do not have love for yourself. So before you start thinking about balancing work and family, think about yourself and mental health. The more self care you give yourself, the more care you'll have for others. One of the best tips I'll recommend is the use of time blocking strategy to structure and plan your day . You also need to set your priorities right. My priority would be Jay and my family so that comes before anything else , it comes before work, or activities.
Hello ICON : I love how Jay looks at you with so much pride. Okay, the next question goes to you both. What does success mean to you?
Jay : To me, it means being able to realize your goals and dreams.
Cati : Another word to describe is freedom. Total success to us is the freedom to be who we are and do what we love. And Success to me also, is getting married, having a family , having the freedom to love who you love and to grow with them.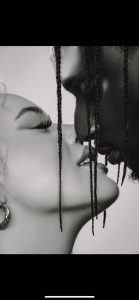 Hello ICON: That is so lovely. My last question for this segment goes to you both. Let's go a little poetic: If poetry is a rainbow and you have a choice of one color in that pallette, what would that be and why?
Cati : For me, I'd say Blue because Blue represents Peace and Calm and the water to me is just so beautiful. I love the Ocean so much and when I think of blue, it reminds of the Ocean and its calmness.
Hello ICON: What about you, Jay?
Jay : Same color and same reason but I also believe the Blue color is a sign of courage and ambition . I am very ambitious and courageous so yes, that would be it.
​
Hello ICON: Thank you very much. I had a good time with you both and I love your relationship.
Massive Love Cati and Jay!
The ICONIC Team.