Alyssa is one awe-inspiring ICON raising a new generation of purpose driven Artists. In all zest and beauty, she is grooming an army of young creatives who combine talent with all the right values to thrive in the Creative Industry and beyond. We are in love with not just how gifted she is as an artist, but also how beautiful her heart is and how this is effortlessly reflected in the works she does as both an Creative and a trainer.
Join us on this special Heart-2-Heart conversation, as Alyssa shares a truckload of inspiration on her creative journey and everything beautiful, in between.
Enjoy and Stay Inspired:
You're beautiful inside out as you shine a bright light raising a new generation of purpose driven artists. We love how your works have a special focus on grooming children and young minds generally. This is both heartwarming and priceless. Please share some highlights of how you began your creative journey not just as a painter but also as an Art teacher.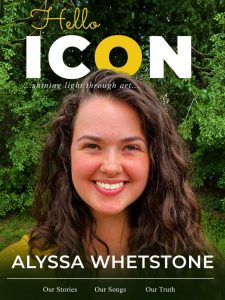 I  enjoy Art and it is something that started from my childhood; I loved to draw and paint and after high school; the next thing was to figure out what I wanted to do. Teaching was something I knew I would do but being an art teacher was not what I originally intended.
It was when I got to college that I figured out that I wanted to focus on being an art teacher especially after going through different levels of the art classes which were very new and interesting to me.
After my undergraduate thesis, I went to different art classrooms, looked at their art supplies and made picture paintings of them in a very realistic style which is referred to as photorealism and the goal was to puzzle the mind to decipher whether it is a picture or a painting and give relevance to different art materials.
That experience was very reassuring and to have a firsthand encounter of the space that kids learn art was another inspiration for me. So while I teach, you see kids expressing their excitement and frustration while drawing but being able to help them understand that they can start over, work on different areas again, teaching them grit and perseverance shows how important art class is.
Can you remember the first painting you made and what inspired it?
I cannot recall my first painting because it was during my childhood but in the past few years I decided that I would focus on painting pieces around where I live, Minnesota, United States. So I started a series which focused on "painting places I wished I could be" and it was during the Covid 19 pandemic; I had some health challenge (back pain) that made me stationery and immobile so it was even more convenient for me to focus on painting and creating new pieces.
I started the series with a painting of a big bridge that was just around a city around me; just how it connects the city and people interested me and was majorly inspired by the big desire to go there which was not possible at the time.
For me, if I need to create a piece, staring at it for a long period of time is very key and another reason is to help art lovers have the same experience we had from creation.

What does Art mean to you?
I have always enjoyed doing Art and so for me it means joy, happiness and getting to appreciate God's creation, participate in it and also be able to recreate it is a beautiful experience and for me being able to do that is what art means to me.
We are grateful to have you onboard this special ISSUE with the theme- Rise, in celebration of inspiring women in the creative industry. We understand how certain stereotypes, cultures, sentiments and faulty orientations have stood as subtle roadblocks for women to thrive boundlessly. Have you ever encountered any form of gender based discrimination? Any quick tips for women who may have been victims of severe circumstances?
I am indeed grateful for where I am and what I have gone through so I cannot really complain about encounters but what comes to mind is not necessarily from the perspective of an artist but generally art has always been a male dominated space but now more women are coming in.
So I would say the most dominant form of gender discrimination is how many people are indifferent about how possible a woman can be able to handle the business and administration side of art as a female artist. But personally, being a bold and resilient person, one thing I would advise women is to be confident in what they are doing and not let anyone discourage them.
It does not matter whether you are a man or woman; what it should be about is your passion and confidence to keep doing what you love whether people underestimate you or not; in the long run you will get to prove them wrong about how they felt about you.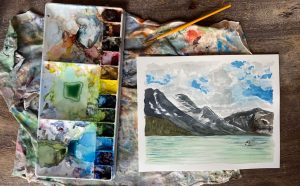 We love how you share your truth and experiences in the most authentic way when you teach Art. Please share any quick tips for young creatives battling with self doubt.
In my Art classes, we have a mantra that guides us and it is "turn mistakes into masterpieces." The goal is to help students understand that even though they make mistakes; they can turn into something new. The idea is that in everything that an individual does mistakes are bound to happen and oftentimes it graduates to causing self doubt but those mistakes can be changed or used as opportunities to create unimaginable things.
On the whole, I will advise people to keep practising, have fun and not compare themselves. At the moment I am picking out art pieces from my students for an upcoming art fair and it is hard sometimes to make a decision because of their amazing potentials and difference in approach and creativity so I always try to encourage them and stop them from sabotaging their gifts through comparison.
Your works have been described as one that helps people discover familiar places. You are passionate about teaching your students how to 'see Art that came before us and the Art in the current world around us.' What would you consider most fulfilling about your creative journey?
As an artist, you wield the magical ability to make people see different things. Art encompasses lines, colours, darts and so much and the ability for that to be able to influence and elicit different reactions from people is powerful in itself. Being able to affect each other's emotions, reactions and all of that is so amazing and fulfilling too.
Do you feel creatives in developed countries are at an advantage than those in developing countries?
What I have realised in my creative journey is that the luxury of being creative is time and when you do not have time to be able to create, then your creativity begins to lag. As a teacher, teaching students is what I enjoy doing and that takes most of my time but I also have leisure time for my personal art where I can create.
However, in a lot of developing countries, a lot of people are so focused on making ends meet and this takes their time majorly because of the responsibilities that they need to cater for and then they spend so much time trying to make money while the other parts of their lives are at a disadvantage. So, the absence of time in developing countries hinders creatives from exploring their gifts.
We understand balancing work time and rest time is a struggle for many Creatives. Please share a few tips on how you try to balance work time, rest time and family time?
(Laughs) I am not so great at creating balance but what works for me is that as soon as I get off my day job which is working as a teacher; I always try to walk into my studio and create something; this means more work totally but it works perfectly for me.
This is because if I decide to go straight to my couch, I would not be able to do anything again; so going straight into my studio when my brain is still active and alive is a good way to keep creating art pieces and also deal with the business part as well.
I also make sure to create time for my husband and we have conversations, go skiing and do other fun stuff; it is a big and huge task and I am trying my best to balance things.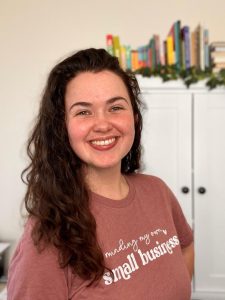 What does success mean to you?
Success to me is sustainability; being able to do something consistently for a long time. This is what guides me in my art journey; to try not burn out, to continue to create and run it as a business for a long period of time and in a healthy way.
It is creating things that are real, sincere and able to linger for a good period of time.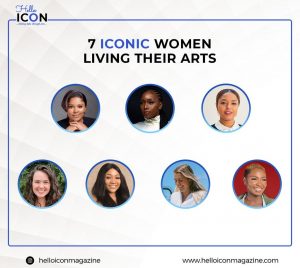 Please briefly tell us something we do not know about Alyssa Whetstone.
Alyssa loves to travel and though I do not have the wherewithal to travel a lot but travelling is one thing I would say I love to do especially because of how contributory it is to my art.
Besides being a teacher and art creator, I love to travel. I also love to meet people and the way this is done is through art exhibitions and fairs where people come and interact with art.
Let's go a little poetic: If poetry is a rainbow and you have a choice of one colour in that palette, what would that be and why?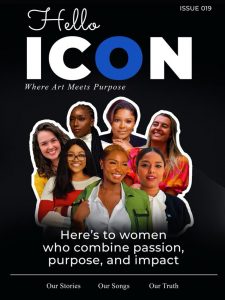 I would go with purple which is my mom's favourite colour but I choose it because it has a little shade of blue but it is calmer than blue which depicts calmness, warmth, boldness and resilience which is not who I am all the time but most of the time but I would pick purple.
Massive Love Alyssa!
The ICONIC Team