It was an honour to delve into the extraordinary world of the creative digital and brand designer, Bolanle Banwo Osadolo. Bolanle inspires admiration by harnessing her innovative skills to create increased access to opportunities for other aspiring brand designers. This brand identity designer is also an advocate for increased participation of women in the Nigerian technological and design sphere.
Join us on this special Heart-2-Heart conversation, as Bolanle Osadolo shares an insight into her creative journey as well as the inspiration behind her renowned Female Designer Movement.
Enjoy and Stay Inspired: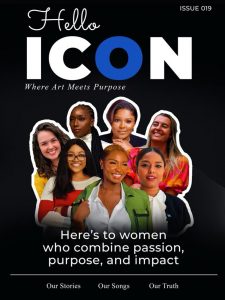 We stay in awe of your brilliance and beauty, inside out. Beyond how you constantly carve a niche for yourself and thrive in your uniqueness as a designer, you also shine a light in dark places as a teacher and clear pathways for others to thrive. Please share some highlights of how you began your creative journey in not just brand designing but also as a design advocate and teacher.
Thank you for that question. I started designing just like every other person. I'll try to make these answers as plain as possible, so that people are really able to gain something basically from this interview.
My creative journey started very early. I would try to make designs, paint, mix colors, because I have this elder brother who paints. I tried different things, I tried expressing myself, and I always knew that designing was my thing. It was that one thing that I would do and not struggle with. I struggled with many things growing up. There were other things I struggled with, Further Math, Mathematics generally but for me designing was just that way to just express myself and show who I am basically. I started between primary and secondary school; I would make illustrations, paint. I remember that in secondary school, I was so good at making paintings that the Art teacher would go to other classes, wanting to mark their assignment. He would say, 'Bolanle did this thing? Go and call her' and they would call me, because I painted for all my classmates, including other classes, and they would buy food for me. It was my thing, people knew, it was just easy for me. So, designing is something I've always done and it started from my primary and secondary school and it was just that one thing that I was really comfortable with. So, my creative journey started from secondary school.
You also spoke about being a design advocate and teacher, we should speak on that as well.
When I finished secondary school, I remember that in the university I always wanted to study something that was art or design related, but it was not possible. There were a lot of things happening. I remember that I tried to look for schools abroad that I could attend. I had dreamed about these schools, I was so confident until I realized that we could not actually afford it. I had to go study Mass Communication and it was like a complete opposite of me. Contrary to what people think, my most comfortable space is just being indoor, not talking to anyone, just being secluded, just designing and many designers are like that. For me, I had to study Mass Communication because it was the only available course to study and maybe it was the closest thing that had to do with expression and stuff like that. I remember that in the university, the only thing I could find that I was interested in Mass communication was drawing, making illustrations for the school newspaper and that was like the niche I chose. I would draw comics for the school newspaper, for like 4 years until one day someone walked up to me and told me about a company that needed a comic illustrator. That became my first job. I was still writing my project and already had a job. It was so exciting because I didn't have that confidence about my work as a designer, I felt like I was going to be one of those persons who would finish the university and have to go back home because I may not be able to afford the kind of life I wanted. It felt like, there were no designers that I could think of or look up to as a successful Nigerian designer. There were no examples to look up to, so it was scary just choosing to do design. Then I got the job and it was a miracle for me. I cannot remember the salary, it was about 30k or 40k but it was a big deal. This was 10 years ago. I remember that I bought my father this very big hamper to make him believe I was becoming a success, as a designer, that I was not suffering, and he didn't need to worry about me. I had done Mass Communication and made them all happy and it was time for me to do what I wanted working as a designer. As soon as I bought him the hamper, he was very happy and was surprised that people paid that much for a drawing and that was the time they let me be. They were confident that I was going to do well and that's how I started my career. Since I could not go to the university to study design, I worked as a designer and the experience made the job easier for me. I was able to express myself. My experience influenced my approach to life, seeing that I struggled to find someone I could look up to in design when I started, as well as the challenge of getting an affordable design school I thought I should create one and focus on women as well. That led to me creating The Female Designer Movement. Through the Female Designer Movement, we trained over 3000 women for free and it was always so emotional. Some of these women will come to the training with children, and we would see them working on Photoshop, it made me so happy because there were times I would do an event and see female designers who would walk up to me and ask if I could remember them. They would remind me of my training in 2017/2018, and how that my training gave them an opportunity to work as designers. For me, this was a dream come true, what I always wanted and that is why I established the Female Designer  Movement to train women for free and I also established Geneza school, so that we could have affordable design courses where you could have like a month to two months of training for just 19,250 naira. We recently just increased the price which is still super affordable, so that everyone can afford to design.
A journey of a thousand miles begin with a single step. Can you remember the first design you ever created and what inspired?
To be honest, I don't think I can remember the first and that's because I worked on many things as I grew, but I know that some of my first set of designs were portraits of myself and people around me. That was when I realized that I was very good at it. I drew a portrait of myself, it looked like me, and I commended it. It was fascinating because I had seen people make sketches on their notepad, but I was able to draw without the grid. For me that was very encouraging and fascinating. That was the earliest experience I had with design. I was inspired by people around me, my cousin, etc.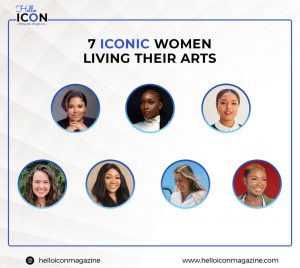 What does Art mean to you?
I think this is a question that I like. For me, Art is first personal and special to me. Art is also to me an expression of who you are on the inside. Art is so special because you see an entire human being and tell the person to introduce themselves, then they tell you they won't do it in words but as a drawing and from looking at what they drew, you're able to understand that person. So you can say that Art is an expression of one's essence, what makes them unique. Sometimes you see some chaotic paintings and perceive that the person is disturbed or has a dark side or even a hidden trauma. How do you know that? Just because you're able to express that side of them.
Another way to describe it is this way; you gave different persons a story to express it through Art. Art is special that people would paint same story in different ways and you can tell their experiences from those unique paintings. Art is a unique language that helps you express your uniqueness, essence and what makes you special and express your entire life story in one piece, in colors or whatever means you choose.
We are grateful to have you onboard this special ISSUE with the theme- Rise, in celebration of inspiring women in the creative industry. We understand how certain stereotypes, cultures, sentiments and faulty orientations have stood as subtle roadblocks for women to thrive boundlessly. Have you ever encountered any form of gender based discrimination? Any quick tips for women who may have been victims of severe circumstances?
Yes I have. The subtle ones I experienced were working as a designer. I remember that I was going to work on a project and the person who was to contract us on this project was not convinced that I was the one who did such an amazing work and thought there was a male figure who was doing the work; these words were very condescending. This was years ago anyway, but recently there are tons of female designers in Africa and Nigeria. People are also beginning to see that gender has nothing to do with one's capacity as a person, to create. A lot of persons express how amazed they are of my works, on my page. They are mostly surprised the amazing works I can do as a woman and what I do is ignore them, because their comments do not make sense. Some experiences that I had that were quite serious, which was also years ago when I just started my career, and I was trying to work on a particular project. I was dressed up decently on heels which was not something I wore regularly, and happy for the project. As a designer what we would do normally is to express ourselves and design on your computer, but for this project I had to do a presentation of the ideas. The person in charge of the company called on me for a discussion and it was about dating him to get the project. I washed my hands off it, because my works are good enough to earn me whatever project I wanted to get and I wasn't going to go through that route. I think it was easy for me because I had support around me and I could make that decision easily. There are many women that would have fallen for that because they don't have these kinds of support they need.
Another experience which was quite bad and almost got me into trouble. It was quite a difficult period in my life and it was as if people would always want to take advantage of the fact that I am a female designer. I am grateful to God that I was able to navigate those times and come out of them; it may not be the same for other women. My advice to women is that it will take a while for these experiences to cease and do not go alone for projects, don't assume people who are nice are seemingly good, protect yourself, stand your ground, don't allow anyone to look down on your works. Do not allow people's condescending comments and mannerism make you feel less of a designer. Your gender has no limit on your capacity and you have the capacity to create magic.
I remember how my mum would design our living room, she used to sell building materials and paints before she passed away. I watched her redesign our living room, today she's moving the chair, tomorrow she's changing the color and just watching her express herself influenced my design as well. So, I would say as a woman, you have the capacity to do whatever you want to do. Your gender has nothing to do with the quality of your work. You have the capacity to create magic.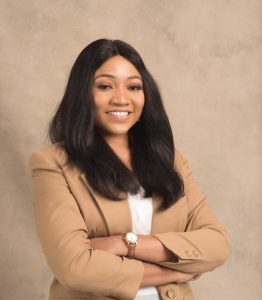 We are all about combining Art with purpose and this is what you effortlessly do at The Female Designer Movement, 'empowering the next generation of female graphic designers.' Every project no doubt has an inspiration behind it, and this is where purpose comes in. Please share the inspiration behind the platform and some highlights of its forthcoming event this November 2023.
I started it because I wanted to see more women designing. I did not want to be the only female designer. So, I really wanted to see other women. When I was still doing my 9-5 job, I would design for big brands in Nigeria, and they would marvel, asking who did the design. They would talk to me and I'll feel so special. It got to a time that my work was the best in the office, even if we had guys on the team. It made me wonder why "women can't design" or "our job is in the kitchen." People even say women are too emotional and complain especially when they have menstrual pains, or cannot work, but that is not true. I have women on my team, doing well, who are passionate about their work. They put in so much work, when they focus their mind on something, they do it and I really love that about being a woman really. So I started TFDM because I wanted to see more women design,  I wanted to show them that it is possible. Some women have written to me, saying they wanted their daughters to be become a designer because they have seen my life, that's the reason why I started the Female Designer Movement watching women who are designers, who are married, who have kids, and they are able to still design and support themselves.
When I was growing up, I felt like designing was useless, rubbish because I didn't get a pat on my back. My brother was good with math and it wasn't my favorite subject, so we'd see him get a pat on his back. For me, they would be like, 'this is your hobby, design is your hobby, you can't make it in life with designing. Several comments going on, you feel like there's nothing you can do with this. Now I'm working with huge brands, designing for them, I really love my job and I'm being paid to do what comes easy for me. I feel like other women should get a chance to do this as well. One of the things I find exciting is watching women who are designers, who are married, who have kids, and they are able to still design and support themselves and that's like the goal for me personally, that's why I established TFDM, so I could have more of that.
Sometimes you have an idea and you choose to keep quiet because quiet, because keeping mum feels safer and familiar…' These are some of your deep and powerful words. Please share any quick tips for young creatives battling with self-doubt.
Self doubt is something I could talk about all day, but it's not unique to just one person. Everyone struggles with self-doubt, including the most creative persons. I think what would help you out of the struggle is to gain, 'knowledge' on it, it could mean watching videos, listening to a podcast. You need to step out from what you understand about life and read the lives of other people, you'll realize that you're not the only one and if they could pass through that experience and make it through, you can. Understand that people have gone through that path.
I used to struggle with public speaking and wondered who would listen to me. I remember when I first stood in front of 300 women and was all fidgety. The low self-confidence would make me put my hands behind my back, so they won't see me and just speak in tongues. It took a while to get myself back and I told myself I could do it, that they were there because I had something to offer and that actually helped me. Self-doubt could be expressed in different ways, it could be that you doubt something about yourself. For me, it was my confidence to speak in front of people because it wasn't something I was comfortable with, but I was able to overcome it because I knew I was not the only one. There were people like me, and they had gone ahead to do amazing things.
The second thing is to document your journey: every time you succeed at something, write it down, tell yourself that you actually succeeded at thing, so anytime you're experiencing the fear and anxiety look back at all the things you went through to succeed at it. It will encourage you to believe in yourself more.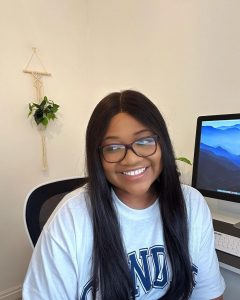 What would you consider most fulfilling about your creative journey as a Designer?
What I would consider fulfilling as a creative designer is my journey as a designer. I wake up everyday doing that one thing that I love, get paid for it. It is the fact that I'm designing for clients and I'm helping build and design for their businesses, solving major problems for them. Sometimes we design for a client who has an idea, but they don't know what colors it should be or how it should look like or the logo, that's where I listen and put visuals to it and help them create something out of nothing and build their brands. It comes easy for me, I have fun, I get paid and I also get to give value.
What is fulfilling for me at TFDM is that I get other people to experience what I am experiencing, being in the comfort of their homes and still make money and still do what they are interested in.
Do you feel creatives in developed countries are at advantage than those in developing countries?
Of course! Sometimes in Nigeria, you look at the electricity situation, all the painful experience. One of the things I'm grateful for are my experiences and the opportunities to travel to different places. I also remember the times I woke up in the middle of the night and there would be no light and I had to use a local inverter to power my laptop so that I can design for my clients. It was a very difficult period but it built my capacity. These developed countries have things going well for them, electricity, structure, security, but you should never allow the things that are not working for you be an excuse to not create good works. I believe I have the right to say these words because I know what it is to struggle to afford a single laptop or not have electricity. There was a time during my one year mandatory post-college internship, it was supposed to be my major logo design job and I remember that after designing the logo to present to the client, I thought of working on the logo for them and submit a proposal. I charged 50,000 naira, which was a big sum of money to me. At that time I was still working at a radio, and I was being paid 19,350 naira monthly for the internship. I presented the logo and the good work was commended, they said they were going to send it to the Governor. On my way back, my bike crashed into another bike, and I was severely injured. No one could help me with the injuries because in the North where I served, no one would touch a woman. I had to help myself up and the first thing I sought for was my laptop, to be sure the screen was intact. I observed my leg was cold and realized that my entire flesh on my leg had been scraped off, my laptop and the design were more important to me. It made me go back home for treatment, and I successfully presented the project. You can imagine what other people have gone through compared to what I did.
The creative journey for designers is easier abroad because of electricity and things are just working, there's an atmosphere to think better, but you should never be a reason to create bad works or for you not to pursue your dreams. You must tell yourself you would make it and you won't stop dreaming.
We understand balancing work time and rest time is a struggle for many Creatives. Please share a few tips on how you try to balance work time, rest time and family time?
I don't think I have an answer because I am still on that journey, working on it. I feel like there should be a support group for female designers who are married, run businesses or have their brands or just female designers who want to build something. Clients don't care what you're going through, they just want the work done and you have to deliver and also build a personal brand. I recently did a check up and realized my stress level was high. I now have to work less at night and I have gotten help from my accountability partners who check on me from time to time if I sleep well or my phone is a way from me. I haven't figured out, but I believe it's possible.
What does success mean to you?
Success for me first of all, means my being alive daily: for me to wake up every day in the morning, not depressed, I'm happy, able to work and think straight.
In my career, it is the fact that I am able to look back to when I was younger and designing, people's disapproval of designing, their advice for me to get a proper job with what I studied and I look at where I am now, met the people I really do admire, and I am closer to my dream than I was 20 years ago.
Let's go a little poetic: If poetry is a rainbow and you have a choice of one color in that palette, what would that be and why?
I like blue on the rainbow, but I like black. People see black as negative, I like black because it is beautiful and it represents the beginning of creation: when you close your eyes and you see black. It feels you have this black canvas and everything comes out of it. Black to me is that color that represents the beginning of ideas. It is very similar to GENEZA brand which means 'Genesis', the beginning of ideas. The fact that something looks black, red and something is able to come out of it. Most times I'm wearing black, but people don't always understand black and think too negative of it.
Please briefly tell us something we do not know about Bolanle Banwo Osadolo.
Uh, I think what people don't know about me is that I recently learned how to bake. I baked carrot cake although it was quite soggy, and I shared it with my husband. It was a good experience. People know I love dogs and animals generally. I don't enjoy traveling, being in the plane is uncomfortable. I also like experimenting.
Massive Love Bolanle!
The ICONIC Team