Beauty Expert and Consultant, Kadidja, creates a fresh perspective for what it means to be a creative thriving in the Beauty Industry. The brain behind the brand known as Dosso Beauty, Kadidja, inspires thousands of women and men to express themselves through effective hair and skincare. Here's to a Queen who is not averse to asking the right questions and leading the necessary change. In this Heart-2-Heart conversation, Kadidja shares her motivation and drive towards consistently building a successful beauty brand in an industry devoid of female black-owned businesses. Here's a tip; it starts with 'confidence' and continues with many more inspiring information.
Join us on this special annual ISSUE- As Kadidja shares her awe-inspiring story and a truckload of inspiration on her journey in its uniqueness.
Enjoy and Stay Inspired:
You are golden. You are a perfect reflection of possibilities and no doubt an inspiration to many young minds in the Beauty Industry and beyond. We love how you do not only continue to carve a niche for yourself, but also mentor others to thrive. Please share some highlights of how you began your creative journey as a Beauty Expert and Consultant.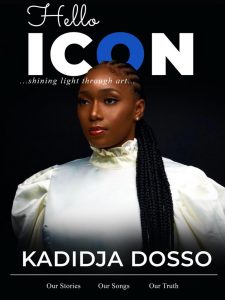 My experience as a beauty expert started when I was three years old. I would never forget this: I got into a debate with my mum and my grandma about what a braid was and what a twist was. I was doing a twist and my grandma and mum were like "no, this is a braid". And once they taught me, I started braiding everything I could lay my hands on. So, I fell in love with hair very very young and making things look beautiful. I started, my mum allowed me to do my hair for the first time when I was ten years old. I have a picture somewhere in my house. My mum allowed me to take my school pictures with my hair that I braided. I started to style all my friends' hair throughout middle school, high school and throughout college. My journey with beauty began when I was very young. I like how people felt or reacted when they got their new look. It affected how they felt about themselves. For me, I have changed my hair a lot. I used to wear my hair short… I have been wearing braids for three or five years straight and I've never seen my hair as healthy as this. It's long, full and thick and it really makes me happy to know that I found a product that not only works for my skin or hair but also is good for my health because of all the toxic chemicals in products that are in the market. I've been able to create and manufacture green and organic products for my personal beauty journey.
How did you transit to consultancy?
When I graduated from college, I started working in corporate America in management consultancy. But I've always said I wanted to grow an organic beauty empire. I already knew that me going into corporate America I was going to learn as much as I could and how well all these large conglomerates could run their big brands and use some of that great information and some of the things that they didn't do well to further refine as well as fuel Dosso beauty. It was definitely a learning curve, but it was something that I would not change for the world. And I was just telling someone that, leaving corporate America to bet on myself showed me a different outlook on money. A different outlook on how our products are servicing the people. You know when you really bet on yourself and when you put your time into something, that is fulfilling. You know like how what you put in is what you get out. And that transition went in an amazing way for me and I could never trade it for the world.
Please share the inspiration behind Dosso Beauty. 
To go back to the main problem we solve with Dosso beauty is providing access to clean and organic beauty products to people globally and so the real source was that I grew up in West Philadelphia in the US and in my local area there were only two beauty supply stores and neither of them were black-owned. They were both Korean-owned and when I would go into the store because again I was a young stylist. I would go in there with my mum to get the products that I needed to style my client's hair, to style my hair and all the products had a ton of big words and ingredients on the packaging that I didn't know what they meant or anything like that. So, I'd ask a lot of questions. I was very inquisitive like that. I would ask the clerk or store owner "what does this word mean" and they be like "I don't know". Then it got me thinking that if they don't know what's in the products that they are selling to us then do they really care? Right? And so, I started doing Dosso beauty because I cared about the ingredients in the beauty products and the way that they were made that was servicing our community. So, I wanted to make beauty simpler, because it could be very difficult to understand, it could be complex like there's all these different terms. I just wanted to make Dosso beauty very simplistic from you being a child all the way up to an adult. I wanted people to understand that beauty should be fun. It should not be difficult to understand and it also should not be harmful to you. My motto is 'Confidence is Key to Success.' So if you're confident, you want to work/walk confidently in the products that you're using and you're wearing. So just really making beauty simplistic and giving access to organic beauty supplies was really the motivation behind starting the business and everything like that.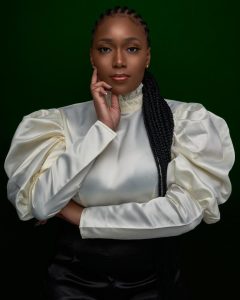 What does Art mean to you? 
Art to me is a form of expression… When I think about Art, my medium would be hair and stuff. When I think about Art, I think about an expression of emotion. I mean for me, personally, I switch up my hairstyle very often even though I'm using protective styles and stuff. Art is really and truly an expression of your personality or maybe something that you're longing to become. For example, someone very shy loves very bold hairstyles. It helps them become what they want. And so, no matter what your medium is… It's really an Art form of expression to be able to tell a story behind who you are.
We are grateful to have you onboard this special ISSUE with the theme- Rise, in celebration of inspiring women in the creative industry. We understand how certain stereotypes, cultures, sentiments and faulty orientations have stood as subtle roadblocks for women to thrive boundlessly. Have you ever encountered any form of gender based discrimination? Any quick tips for women who may have been victims of severe circumstances? 
Absolutely. I work in an industry where black women make up less than 3% of the hair care market. The automatic response I get via emails especially if they are not culturally sound is "Dear Sir." They think that because I've built this successful business, I'm a man, I must be from some type of elite place. I come from poverty, my dad is from Côte d'Ivoire in West Africa. My mum is from America. She grew up middle class like lower middle class with my grandfather. My parents together came and brought me out of love. And so, I was fortunate, definitely more fortunate than some. I did not grow up with a wealth of money. I did not grow up with a ton of resources. I grew up with a ton of love and resourcefulness and so that's what helps to drive the business. And even the business name – Dosso. Dosso is my last name. Dosso which means hunter, and I've already been a hunter for beauty, for the best of the best clean side of beauty products. So going back to your question of experiencing gender and cultural biases, that's always going to be a thing. When we think about the beauty, the standard of beauty has always been white. The products in the market have never been dedicated to people like us, people of colour. And so that's why I'm very adamant about putting beautiful black faces in everything that we do and showing that the person behind this product is not only the creator /developer, I'm also the consumer too. And so, my consumers look like me.
There are some black male companies. Darling hair company is male owned. And it's amazing that it is a black-owned business. He doesn't wear hair extensions. He doesn't understand the plight of 8 hours sitting in a chair to get your hair braided, feeling confident in one minute and not feeling confident in another because your hair stylist messed up… I'm representing who I serve, and my advice to other young female entrepreneurs is to not think about the biases but to really prove yourself in what you're doing, in your business by facts and numbers. No matter my gender or race, I'm running a race of my own and not really worrying about my competition.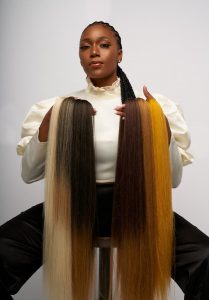 We love how you uphold your values even as you inspire the world with your story. Please share any quick tips for young creatives battling with self doubt. 
Imposter syndrome is real. I would say; "I'm just trying to change the world with beauty. Am I supposed to be here?" I know I personally rely on my religion to believe that a higher power has created you for your destiny. You're not going to be anywhere that you're not supposed to be at the end of the day. God for me puts me in different rooms for inspiration but also to showcase my confidence. And sometimes when you feel like you can't rely on yourself or what your talent is, you think about your purpose, think about your purpose that you've been put on earth for. The skills that you develop easily. Or what talent comes to you naturally. Think about the people that you service, they need your superpower and so I'd encourage young people who have self-doubt to combat that by resorting to whatever it is that your faith is and also in building that skillset that you really need to be excellent in everything that you're doing. Sometimes confidence comes from imposter syndrome or even worrying about what other people are doing. You can only focus on what it is that you do with your lane with your business, with your Art and focus on that and let that be the motivation to keep you growing and learning.. You've been in a lot of spaces to make you become better.
It's always beautiful to thrive in one's passion. What would you consider most fulfilling about your creative journey? 
I think that the thing I find most fulfilling about my creative journey is, I like to call myself as a visionary and an executioner. If I see something, I have to make it happen. And now what I've been doing more often than saying "hey, I want to do this" is like adding a strategy piece. And I can, that's a part of my personal development. It is like thinking that okay this thing is cool, but logistically how does it work. But for me, being a visionary, making things come to life, speaking things into existence, you know the act of me going through the process of envisioning something in my head may be getting inspiration from somewhere and seeing it come to reality in real time. And skin care and make up, you know that's what's really fulfilling to me, that is to so I came from this background of poverty and sorts and I, this little girl who statistics shows I wasn't supposed to succeed or I was supposed to have children really young, I might have been married off really young if I was born and raised in Abidjan, Cote d'Ivoire. Like, I have been able to build this amazing thing that impacts thousands and thousands of people and would one day impact millions of people. What's most fulfilling is the feedback that we get from the customers saying "hey you've changed my life with braiding hair. I have been searching for decades for braided hair that is itch-free. I have terrible scalp conditions. I have eczema and nothing would work." So, I think those are two most fulfilling things I get out of my art medium.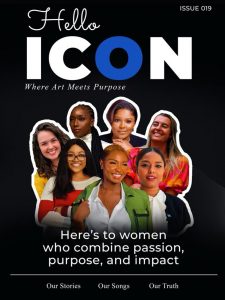 Do you feel creatives in developed countries are at an advantage than those in developing countries? 
That's a very interesting question. So, what I would say is that in underdeveloped countries they have certain advantages as far as niche audience. You know in certain developing countries if you know this person that has a particular Art medium and sorts then everybody knows them in that country. But I would say that they are disadvantaged to the scope to which they can build their brand for example and I'm not saying that Philadelphia is a developing country at all or a developing city. What I would say is that a lot of Philadelphia mentality where I come from is that I want to filly famous. They might know a lot of people or be well known in the local area but their minds get stuck in that local area and what they don't understand is whatever their art medium is they can impact the world and so I think for me personally coming from a father who is an immigrant that came over and is well travelled, has lived in Paris, has lived in different countries. I think there are some disadvantages, but I think locally no one is severely disadvantaged in the resources that they need in order for their medium to be shown to the world and better their classes and funding and disconnection. I think when they make it, it makes it to even have that story of like "hey, I come from this developing country or developing city" you know locally I'm known but I have been able to grow and expand. And you know, that's what really inspires, to be a big dreamer beyond the city or village where they grew up in.
We understand balancing work time and rest time is a struggle for many Creatives. Please share a few tips on how you try to balance work time, rest time and family time? 
I think I have a few tips. My first tip for me personally I struggled with it last year. Last year again was my first year of doing Dosso beauty full time and I realised that I was getting burned out all the time. I love beauty, I love hair I love going out I love cooking and I noticed that I was not doing those things because I was working way too much and was focusing on growing and scaling the business and taking care of my employees and I wasn't pouring back into myself. And for me personally I have poured a lot into doing things that make me happy and make me feel fulfilled whether that impacts anybody….I had to work on the business 24 hours in a day but really developing a strong team, so I don't have to do the extra work and so that I can take the time to go to the spa or take the time to cook which for me cooking is my solitude. My grandmother who passed away in 2017 taught me how to cook and she was the closest person in my family. I feel her spirit when I cook which Is why I love to cook.. They make me happy. Cooking also gives me time to get off my phone and laptop because I'm looking at a screen all day long. I'm touching products in the warehouse all day long so it is really a helpful way for me to release and just be one with myself. You know finding things that you love outside of the work that you do, I think it's really important because it helps you not to forget who you are and not to make yourself become the business. You still are remaining true to yourself.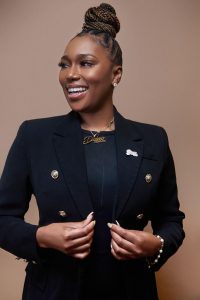 What does success mean to you? 
That's always such a big question for me. Success means to me is not failing. Not failing also has a new definition to me because like in business and life certain things are not going to go your way. Right? Certain things are not going to happen. You are going to get a ton of NOs. But like failure to me doesn't mean that I received a ton of Nos, I might not have gotten into a program. It means to continue to strive beyond adversity. I think success is where your dreams meet reality and wherever that reality is defined by you. Being successful doesn't have to be a grand gesture. As a kid, I wanted to make a million dollars, when you're close to the million dollars, you now know what a million dollars is like or what you could do with a million dollars, so you keep shoving for more. I have put this idea of something that I want to do to impact myself and to impact my community and now I'm able to scale it because I have a good handle of it. So yeah, it really is your dreams meeting reality in whatever forms that is – big or small.
Please briefly tell us something we do not know about Kadidja Dosso. 
Many people do not know that I have various talents outside of this beauty business. I sing pretty well. That's one thing that people may not know about me in the business world or beauty world, that I sing. For other people it's really funny when I mention cooking, everybody is like "you cook?". I love to cook, cooking is one of my super powers, one of the ways that I express love because I love the complexity of food. I love flavours. I love trying new spices. I love all the things about food and everything like that. One of the surprising things that people might not know is that I'm very introverted. I would prefer to be by myself, but I understand going back to my mission and getting to meet people. I understand that God has created me and given me knowledge and given me experiences to share with the world because if I just have all these experiences and amazing conversations like this and I can't share that to the world to inspire them, then what did he give it to me for? And so truly being able to continue to understand my purpose and continue to be driven in that, is what motivates me. I'm not afraid, I just prefer to be by myself or with music. But I love people. I love hearing stories. I love learning about stories. I love biographies. If I could have made a history and made a lot of money out of it, I would have and I think I still can technically. I think history is something that is big for me. I mean if you could talk about this interview like legacy, legacy, legacy is such a huge thing for me. I mean I hope that it could outlast my days on earth. I hope that I just continue to build this legacy for my children and other people that I might inspire to just follow their dream no matter how big or small they might think they are. Your dreams are impacting the world in a much larger way than you could ever imagine.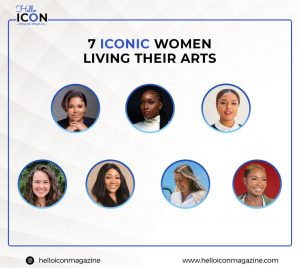 Let's go a little poetic: If poetry is a rainbow and you have a choice of one color in that pallette, what would that be and why? 
Okay so funny enough I think that I don't know I'm thinking of two colours if that's okay. I would say black because black is my favourite colour because of its diversity. When I think of the colour black, I think about black being chic. I think about black being fashionable, about black being one of the colours that you can add any other colours to, and it still stands alone and it's bold. So, when I think of black, I'm like black is beautiful. When I think of my people, I'm like black is so beautiful and it's not a stand alone. So black is one of them. The other colour for me that I really love is pink. I think it helps to visualise my femininity and I say that because of a few reasons. Number one because I'm a woman in business and a lot of time people expect me to just be hard and dogmatic and she's all business and she's no play, she's no pleasure. But I'm a very fun person and I love adventure and I think I'm also very feminine in the sense that like again I'm rooted in I love, making things beautiful like make up, the hair, all the things that are beautiful but like my mentality because of the man that I was raised by, because of my maternal grandfather, him having me lay concrete and bricks as a four year old it's like yes I do a lot of "man" things but I love being a woman, everything about it and so I'd definitely have to say pink is second favourite colour. Black triumphs everything because black is just transcendent. When you mix all the colours, black stands out on its own.
Massive Love Kadidja!
The ICONIC Team