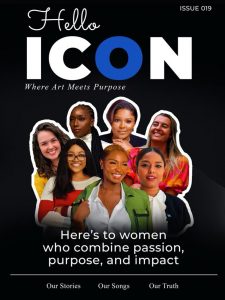 She's the fire and the ice. The beauty and the brain. A fierce strength. A force. A Bright Light. Mayada constantly thrives as a voice untamed and unique. It's how she effortlessly combines the brilliance of both Science and Art. It's how she stands for justice, exploring her various gifts for social good.
Join us on this special Heart-2-Heart conversation, as Mayada shares a truckload of inspiration on her creative journey as a multitalented Creative.
Enjoy and Stay Inspired: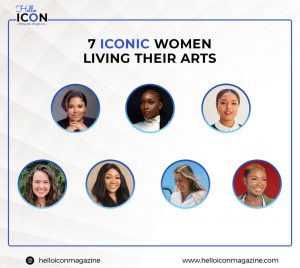 We are in love with how you beautifully combine science and Art as a Fashion Designer, Visual Artist, and Doctor. We also love your awe-inspiring personality which reflects in your advocacy for humanity with a special focus on vulnerable women. Please share some highlights of how you began your creative journey as a Visual Artist and Fashion Designer
It started when I was a child, I use to love a lot of drawings and designing my school outfits. My mum was a designer as well, so she used to take us to know the textile differences, to know the colors and how to match them. So, my mum was helpful in that process of discovering the artist in me. When I did these designs to school the next day it became a trend and so I enjoyed designing my own clothes. Then moving to Sudan, I used to work with the UN, and I was the MC, so I designed my own clothes and dressed myself. In 2016 after I graduated from medical school, I decided to start my fashion business, then I launched my brand, and I was doing outspoken pieces for my friend. I had a show in Nairobi in 2017, and in 2018 I had another one in Paris, it was going very well at that time until I got engaged politically and diplomatically. I am in fashion but not very engaged right now, I'm working with brands to economically empower women, and I'm working more in the humanitarian aspects but yeah fashion is still in me and I appreciate it.
Please share the inspiration behind your fashion brand Mayada Adil.
I use my fashion as a political tool to find my way and to say no we are not accepting that without directly facing the regime. My brand was selling in Sudan, and it was an inspiring story, it was also inspiring for other girls as they were inspired to the point that they had their own fashion brand. At that time, I was starting a movement to get out of their normal jalabiya, abaya typical conservative dresses that don't represent our African dresses nor represent who we are. So, I wanted to break through that, and my brand was my way to say what I wanted to say through the dress.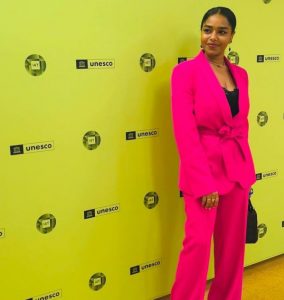 What does Art mean to you?
To me, Art and fashion are equally the same. Art was an amazing healer for me.  Both were great tools to heal Sudanese women and me as well. Art was a tool used to promote the Sudanese revolution in 2019. It was much easier to spread the Sudanese revolution led by women through Art. Art is a very powerful tool to bring democratic change, so Art is not just a beautiful painting on the wall, it moves, it changes, it transforms the world.
We are grateful to have you on board this special ISSUE with the theme- Rise, in celebration of inspiring women in the creative industry. We understand how certain stereotypes, cultures, sentiments, and faulty orientations have stood as subtle roadblocks for women to thrive boundlessly. Have you ever encountered any form of gender-based
discrimination? Any quick tips for women who may have been victims of severe circumstances?
I grew up in a very conservative household where men are always preferred over women. Of course, I faced discrimination since an early age and I remember when I was working as a doctor in one of the hospitals, a patient said to me you should be married and stay home, and I was like I'm your doctor don't talk to me like that. You face that every single day, everywhere, hidden discrimination of gender priorities. How we deal with that is the question of our strength, what will we have to divert from that, you must be able to say "no, this is not for me I deserve better."
You no doubt live the dream life of many Creatives out there. From traveling around the world to living your passion and Art. Please share any quick tips for young creatives battling with self-doubt.
I think it's important going through self-doubt so that we can get ourselves more confidence. I always believe in faking it to make it so the more you fake the confidence, the strength, you claim it, and you manifest it. The most important part is that we accept our weaknesses and then we take it from there and try to strengthen those weaknesses.
Kindly share the inspiration behind your project 'The Peaceful Revolution' exploring the color White.
We have been commissioned to do this project and I've been thinking a lot. Sudan has diverse people, groups, and tribes. We wanted to reflect this diversity in just one peaceful color that's why I chose it for Sudan. The beauty of our revolution and how it inspired the world.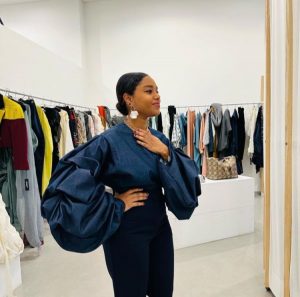 You continue to thrive as a bold and beautiful voice in the Creative Industry and beyond, maximizing all your platforms for social good. What would you consider most fulfilling about your journey as a Young Leader appointed by the United Nations Youth Envoy?
One time I received a message from a young girl, and she said "you are a role model, and I would like to be like you" I thought to myself, no I want you to be better than me. Those kinds of messages from my colleagues and from people in Sudan, seeing this impact and how people are linked and connected to me, is the most fulfilling thing for me. I'm a people spokesperson, I always get closer to get connected to the people. So, when I received these kinds of messages, I'm like this is it, this is the impact I'm looking for, mentoring other girls from different parts of the world. Also to see that our work is being recognized not just in Sudan but also across the globe enabling Sudan to still gain recognition and stay relevant even as a country.
Do you feel creatives in developed countries are at an advantage than those in developing countries?
There are advantages here and disadvantages vice versa. Going back to the days when I was still a creative in Africa, I was inspired by the struggle. You know the struggle in Africa is really immense, I think it was really inspiring to get closer to so many things that in turn become an inspiration. Being an artist there, we always think of outreach, going to other countries but it's important to start locally. Going outside brings lots of opportunities and also gives us the chance to represent and speak to big institutions.
We understand balancing work time and rest time is a struggle for many Creatives. Please share a few tips on how you try to balance work time, rest time, and family time?
I haven't found the right formula yet, but I trust the process with time. My message to everyone who is struggling to find the time is don't be harsh on yourself, do the things that your body and mind have the capacity to do and once you feel like you need to rest listen to your body and rest.
What does success mean to you?
Making someone happy, making my dad and mum proud of me, that's successful. Seeing the impact of what I do in the lives of people is more of a success. Professionally when I have a task to do, and I do it perfectly and brilliantly that is a success. I can find success in every step it's not an end goal.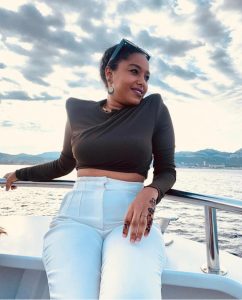 Please briefly tell us something we do not know about Mayada Adil.
I created houses with the people that I meet, I created this warmth in their hearts and that's how I feel belonging by creating houses in people's hearts.
Let's go a little poetic: If poetry is a rainbow and you have a choice of one color in that palette, what would that be and why?
I would say blue because it gives me a sense of calmness and peacefulness and the cloud says a lot.
Massive Love Mayada!
The ICONIC Team