As South Africa observes Youth Month in June, a time dedicated to honoring the determination and potential of our younger population, entrepreneurship emerges as a powerful catalyst for success among our youth. Ivy Teffu stands as an inspiring young visionary who has triumphed over numerous obstacles to establish her own female-founded and -operated carpentry business. Her story, like many others, is a testament to what can be achieved with determination and resilience, despite limited resources and biases.
Founded in 2019, this South African-based company is revolutionising the male-dominated carpentry space with its customised craftsmanship, empowerment, and sustainability efforts. It was inspired by Ivy's childhood experiences when she observed her mother's tireless efforts in maintaining an organised home. This ignited a passion that would shape Ivy's future. Ivy grew curious, and upon turning 18, she embarked on her journey into this male-dominated industry.
Originally from Limpopo, Ivy has been hand-crafting dreams into reality with top-notch personalised built-in furniture from cupboards to kitchen cabinets, shelving, TV stands, pedestals, and much more.
But like most young entrepreneurs, she has faced many hurdles along the way. The lack of working capital and gender biases within the industry made it challenging. But through her tenacity and unwavering determination, she was able to overcome. By working tirelessly and delivering exceptional results, she earned the respect of her clients and shattered preconceived notions about women in carpentry.
Since its inception, Ciar Creations has grown exponentially, expanding its operations beyond Gauteng to serve clients across South Africa. Ivy's devotion, and her extensive experience, allowed her to bring each client's vision to life, ensuring that every creation was personalised and exquisitely crafted. Her success story inspires entrepreneurs, especially young girls looking to pursue their passions in non-traditional fields.
The long-term goal for Ciar Creations is to do more than excel in the carpentry space. Ivy envisions a future where her company becomes a catalyst for change, empowering more women to enter the male-dominated carpentry profession. She hopes to provide women and young girls with the training and tools to do this.
Ivy aims to create her own workshop and showroom, equipped with industrial machines that can cater to large orders and extend her reach far beyond national borders. However, what truly sets her apart is her unwavering commitment to the circular economy and furniture refurbishing. At the core of Ciar Creations, Ivy champions sustainable practices by breathing new life into old materials and reducing waste. Through her inspiring approach of repurposing rather than discarding, she's igniting a movement that encourages others to embrace the concept of sustainability.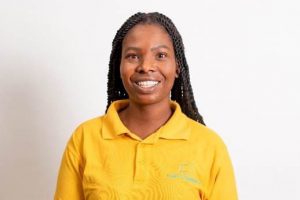 In line with her passion for eco-friendly solutions, Ivy is also in the midst of developing an innovative online platform. This platform will revolutionise the way customers engage with Ciar Creations, offering a seamless experience to order a wide range of furniture and other products effortlessly. By embracing technology and aligning it with her circular economy values, Ivy is poised to reshape the industry while paving the way for a more sustainable future. For Ivy, a home is more than just a physical structure; it is a sanctuary for our dreams. By hand-crafting personalised storage solutions, houses are transformed into homes. Ciar Creations is not just a carpentry business, it is a testament to the power of youth determination, and the resilience in the pursuit of dreams.